Ports Shut in Puerto Rico, USVI as Hurricane Approaches
On Tuesday morning, the Coast Guard Captain of the Port for San Juan, Capt. Eric P. King, set port condition ZULU for Puerto Rico and the U.S. Virgins Islands, banning all vessel movements and ship-to-shore operations unless specifically authorized.
The COTP reminded mariners are reminded there are no safe havens in these harbors, and ports are safest when the inventory of vessels is at a minimum. The Coast Guard and other federal agencies have relocated many of their own assets out of the storm's path to be ready to respond after conditions improve.
Puerto Rico Gov. Ricardo Rossello warned that the storm poses a serious danger to the island's residents. "No generation has seen a hurricane like this since San Felipe II in 1928," Rosselló said Tuesday. "This is an unprecedented atmospheric system." The conditions will be severe and life-threatening: the storm surge could reach nine feet, and isolated areas could receive up to 25 inches of rain, raising the possibility of flooding and mudslides.
Catastrophic damage
On Monday, Hurricane Maria grew quickly from a Category 3 to a Category 5 storm, and overnight it blasted the island of Dominica with high winds and heavy rain on its way towards the U.S. Virgin Islands and Puerto Rico. As of Tuesday, it had sustained winds of 140 knots and was making its way west-northwest at about 8 knots. Hurricane warnings are in effect for St. Kitts, Nevis, Montserrat, the U.S. Virgin Islands, the British Virgin Islands, Puerto Rico, Culebra, Vieques and the northeast coast of the Dominican Republic.
Dominica's prime minister, Roosevelt Skerrit, reported widespread devastation in Maria's wake. "The winds have swept away the roofs of almost every person I have spoken to . . . the roof of my own official residence was among the first to go," he said, adding that the damage is "mind boggling."
USVI prepares for direct hit
In the USVI, governor Kenneth Mapp warned that the hurricane's eyewall is expected to make landfall on the southwest coast of St. Croix Tuesday night, with hurricane force winds arriving towards 2200 hours. The National Hurricane Center forecasts up to 20 inches of rain in isolated areas, and storm surge could reach up to 11 feet. Mapp urged residents to head to a shelter.
St. Thomas – which was severely damaged by Hurricane Irma – will not take a direct hit. However, its recovery may be slowed by the arrival of Maria's tropical-storm force wind band and by the departure of relief assets. Photos posted by the U.S. Coast Guard showed Customs and Border Patrol agents and other federal officials leaving the Virgin Islands in advance of the storm (below).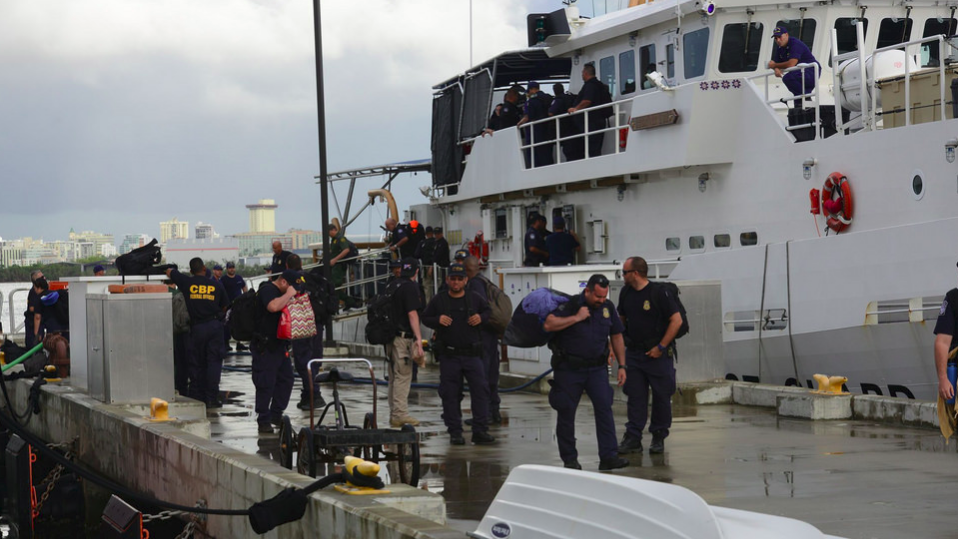 Customs and Border Protection employees depart the Coast Guard Cutter Heriberto Hernandez after arriving in San Juan, Puerto Rico, Sunday, Sept. 17, 2017