Port of Corpus Christi Expands Capacity for Wind Turbines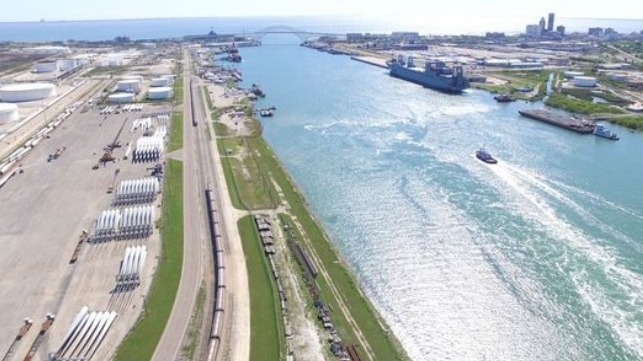 Port of Corpus Christi is well-known for its energy exports, but it is also the Gulf Coast's leading port for a specific category of energy imports: wind turbines for onshore wind farms. To accommodate the growing volume of turbine components arriving in Texas, Port of Corpus Christi is investing in its breakbulk capacity.
The port's new breakbulk cargo laydown yard, the Rincon West Yard, received its first shipment of wind turbine components on July 14. Leading wind turbine manufacturer Vestas is scheduled to import wind turbine nacelles, hubs, drive trains and blades for the Blue Cloud Wind Farm, located in Texas Panhandle counties Baily/Lamb. The Rincon West Yard will serve as the first point of rest for the imported breakbulk cargo prior to components being shipped via truck to the job site. The 150 MW Blue Cloud wind farm is built on 19,000 leased acres of privately owned farm land.
"The future of wind energy is important to Corpus Christi, Texas and the United States; and our Rincon West Yard is an incredibly viable logistics option for the innovative wind energy industry," said Port of Corpus Christi Chief Executive Officer, Sean Strawbridge. "The Port is proud to play a support role for Texas in leading the nation in wind energy development, and we are pleased to partner with Vestas in facilitating the transportation of wind energy infrastructure to the Blue Cloud construction site."
The Rincon West Yard is a new 25-acre laydown yard near the port's Cargo Dock 9, on the north side of the ship channel. It was developed for heavy lift and breakbulk cargo with a 20" stabilized limestone base, and it includes the potential for on-site railroal tracks. Adjacent highway systems and barge docks give it added logistical benefits.
The Port of Corpus Christi is the busiest port for handling wind energy components in the Gulf of Mexico. By the end of 2017, the port reached a new wind turbine cargo milestone, handling more than 3,000 wind turbine components, including blades and tower sections. That number is up from 2,600 and nearly 2,900 in 2015 and 2016, respectively.