Port of Brisbane Unveils Blockchain System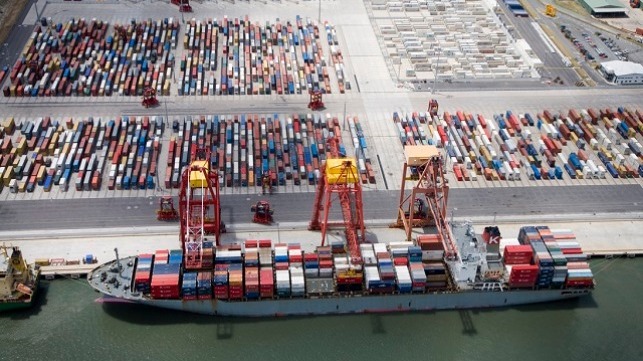 PwC Australia, the Australian Chamber of Commerce and Industry and the Port of Brisbane have collaborated to develop a Trade Community System designed to link international supply chain information using blockchain technology.
The system has been developed to proof of concept stage and will create an end-to-end supply chain with a digitized flow of trading information to improve connectivity and reduce supply chain costs. PwC Partner, Ben Lannan said: "The port – whether sea or air – is the first and last point of domestic contact in the international supply chain, and is the primary point at which all significant supply chain participants converge. To grow Australia's trade competitiveness, we need to look beyond our ports."
The Trade Community System will address a number of recommendations in last year's Inquiry into National Freight and Supply Chain Priorities Report. Australia has been experiencing growth in its volume of trade, which has increased pressure on supply chains, ports and border authorities to process, screen and clear goods as efficiently as possible.
The report states that this growth is being driven by Australia's growing population and from increasing demand for Australian resources and produce, especially in Asian markets. Australia is one of the fastest growing countries in the world, with its population projected to grow from 24 million at present to 30 million by 2030, the majority in urban areas. Like Australia, global population forecasts indicate an increase in the number of extremely large cities, particularly in Asia. This will result in increased demand for mineral resources and products, particularly agricultural products.
The Port of Brisbane handles approximately $50 billion in international trade annually, including around 95 percent of Queensland's containers, more than 90 percent of its motor vehicles and around half of its agricultural exports.
There are roughly nine million container movements annually at the nation's five major ports (Melbourne, Sydney, Brisbane, Fremantle and Adelaide). This figure is projected to rise to 15 million by 2025. At present the current inefficiency across Australian supply chains has added to the cost of doing business, creating up to $450 in excess costs per container. This represents in excess of $1 billion in value lost.
Shipping Australia Limited compared costs in Australia's major container ports against international ports to examine relative costs (see graph below). It found that Australian ports are bunched in the middle of the table with lower costs than the assessed Japanese and European ports.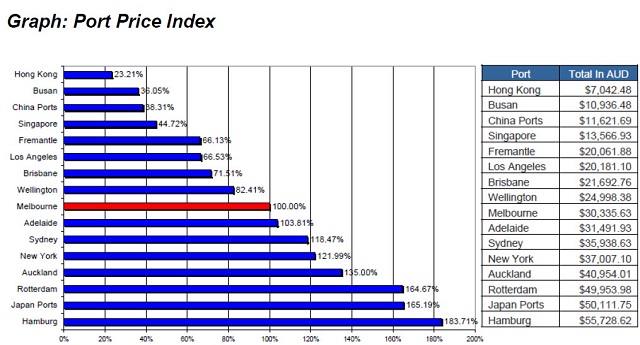 Compared to other high-income OECD countries, Australia performs poorly on metrics relating to trading across borders. The cost (including time) to importers and exporters of complying with border regulations and document exchange is markedly higher than many of Australia's competitors. There is a view that unnecessary complexity exists in seaport gateway access for freight in particular, given the multiple levels of government involved in coastal shipping and landside regulation. The Australian Government recently announced it will provide A$700,000 ($530,000) in 2018-19 for the Digital Transformation Agency to investigate areas where blockchain technology could offer the most value for Government services.