The U.K. Marine Accident Investigation Branch has released it's report into the 2016 death of the boson on the bulk carrier Graig Rotterdam, citing poor stevedoring practices.
The bulk carrier was discharging a deck cargo of packaged timber at anchor in Alexandria Port, Egypt. The bosun, a Chinese national, fell overboard and into a barge that was secured alongside after the timber deck cargo stack he was standing on partially collapsed. Although the ship's crew provided first-aid following the accident, he later died of his injuries.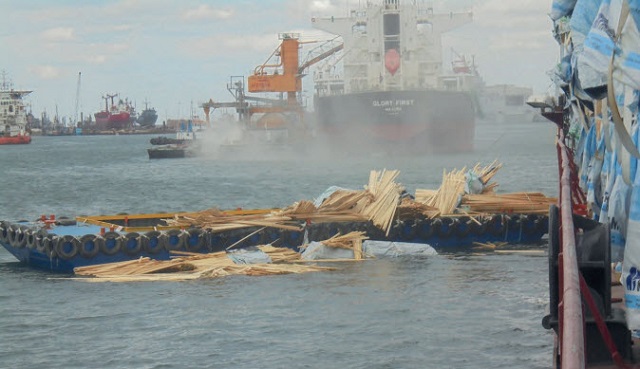 It has not been possible to establish with certainty how the accident occurred, but poor stevedoring practices probably contributed to the unsecured cargo stack collapsing, and no measures were in place to prevent the bosun from falling overboard as a result, states the report. Poor stevedoring practices that had previously been witnessed by the ship's crew were not discussed and so were allowed to continue.
With the deck cargo lashings removed, the cargo packages had insufficient racking strength to counter the effects of ship movement, cargo repositioning, dunnage displacement, barges securing to deck cargo stacks and cargo discharge operations over a prolonged period.
Prior to loading, the master was not advised of either the deck cargo package racking strength or the frictional resistance of its plastic covering. Such information would have enabled him to make a more informed assessment of the deck cargo stack's stability and security.
A supercargo had not been appointed to supervise the cargo discharge operation, and so a valuable point of liaison between the ship's crew and the shore stevedores was unavailable.
The ship's crew did not consider the level of risk while on passage to warrant the need for a catwalk to be installed or for safety harnesses to be worn. This lack of recognition extended to the increased risk of falling during cargo discharge operations. A contributing factor to these omissions is likely to have been both the master's and chief officer's lack of previous experience of carrying timber deck cargo, despite this being a stated aspiration in the company's SMS.
Graig Ship Management's SMS instructions were silent on the need to proactively engage with shore stevedores for the purpose of maintaining a safe system of work during cargo operations. The company has been recommended to ensure a lifeline is available to counter the risk of ship's crew or shore stevedores and to, where possible, appoint a master or chief officer with experience of the cargo type being carried.
Norlat Shipping has been recommended to ensure that all cargo information, as required by the IMO's Code of Safe Practice for Ships Carrying Timber Deck Cargoes, is provided to the master or his representative prior to loading cargo for all ships that it charters to carry timber deck cargo.