Ponant Orders Two Explorer Class Ships
French cruise line Ponant has ordered two Explorer class ships to be named Le Bellot and Le Surville.
By 2021, the line will have a fleet of 12 ships and also anticipates having 2,000 crew members and 460 departures covering all the world's seas by then.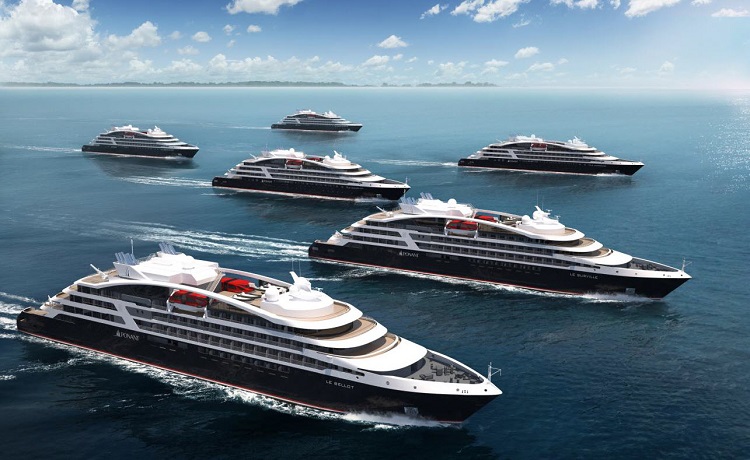 Credit: Stirling Design International
The two new sister ships are scheduled for delivery in the first and second quarters of 2020. Like the four previous vessels the company has ordered, construction of the new ships will be undertaken by Norwegian shipyard Vard, part of Fincantieri Group.
The ice-class expedition cruise vessels are approximately 10,000 gross tons, about 131 meters (430 feet) long and 18 meters (59 feet) wide. The hulls will be built at Vard Tulcea in Romania, with final delivery from Vard Søviknes in Norway. The vessels will have 92 staterooms and suites, each with a balcony and will comply with Bureau Veritas' CLEANSHIP notation.
All six of the Ponant Explorer class vessels will be fitted with a "Blue Eye," a multi-sensorial underwater lounge that will allow passengers to experience the underwater world via two portholes in the form of a cetaceous eye looking out on to the sea bed. The area will feature non-intrusive underwater lighting, and hydrophones integrated into the keel that transmit the natural sounds of the deep water, as well as "Body Listening" sofas that offer a unique sensorial listening experience by corporal resonance.
Between 2010 and 2015 Fincantieri delivered four small-sized extra-luxury cruise vessels to Ponant, Le Boreal, L'Austral, Le Soleal and Le Lyrial, all built at their shipyard in Ancona.
Last year, Vard was contracted by Ponant to build a unique electric hybrid-LNG expedition vessel developed by Ponant, Stirling Design International, Aker Arctic and Vard. The Polar Class 2 vessel is specially designed to take passengers to polar destinations such as the geographic North Pole, the Weddell Sea, the Ross Sea and Peter I Island. She will be the first electric hybrid cruise vessel with icebreaker characteristics and dual fuel propulsion, featuring high-capacity batteries and LNG storage on board. She will also be equipped with two helicopters in in-house hangars.
She will be approximately 30,000 gross tons, about 150 meters (492-foot) long, 28 meters (92-foot) wide and will have a cruise speed of 15 knots in open water. The vessel will be able to accommodate 270 passengers in 135 staterooms, in addition to a crew of 180 people.
On announcing the order, Nicolas Dubreuil, Head of expedition at Ponant, says: "With this extraordinary tool for exploration we are going to have available, we are working with a brand new concept in travel. The Ponant Icebreaker is going to enable us to visit places previously unexplored until now due to their extreme remoteness. I've already imagined winter expedition cruises across the Nunavut ice field, and to Greenland, to get within close proximity of the Inuit camps.
"Our passengers will be able to leave the ship and go out onto the ice for an immersive experience of this hunting people's way of life. Similarly, we will also be able to get up close to the emperor penguins that inhabit the ice shelves in the Antarctic. As for the Geographic North Pole, it will no longer be an inaccessible dream. Ponant will soon have at its disposal the very first passenger ship capable of reaching this mythical destination."
The hull will be built at Vard Tulcea in Romania. Delivery is scheduled from Vard Søviknes in Norway, in the second quarter of 2021.
Ponant says it is remaining loyal to its philosophy of sailing to places where others do not venture, offering remote destinations in Antarctica, Arctic, Alaska, the Amazon, the Orinoco, or the Scattered Islands, Kimberley, Papua New Guinea, the geographic North Pole and the North-East Passage.
Ponant, a subsidiary of Artemis Group and headquartered in Marseille, France, was founded in 1988 by Jean-Emmanuel Sauvée and a dozen Merchant Navy officers. The new orders are part of the line's 30th anniversary celebrations.