Polaris Shipping Agrees to Settle with Families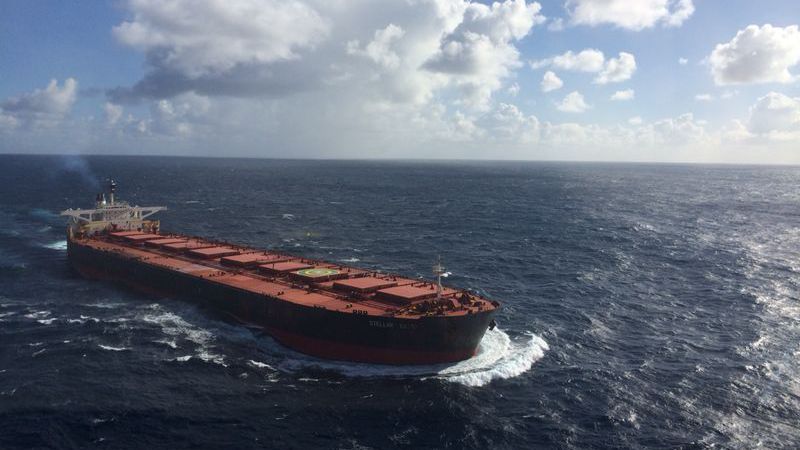 The operator of the Stellar Daisy, the bulk carrier that sank in the South Atlantic on March 31, has reached a compensation agreement with the families of most missing crew members.
Polaris Shipping, the South Korean operator of the missing vessel, said it has agreed to compensation to families of 17 missing sailors and the two rescued crew, without detailing the financial terms.
Five other families have demanded that the company continues search efforts which were officially ended last week.
"We hope we will reach an amicable settlement with the remaining bereaved families," said an official from Polaris Shipping.
The Stellar Daisy sank in the Atlantic Ocean about 2,000 nautical miles from the Port of Montevideo with 24 crew members on board. So far, only two have been rescued.
The bulk carrier was a converted tanker, and reports indicate the ship split in half following a hull crack which caused the cargo to shift. Polaris Shipping has confirmed that another of its vessels, Stellar Unicorn, reported a crack on the outer hull of a tank. The vessel has now been sent for repairs, and a fleet inspection program has been initiated.
Stellar Daisy was a single-deck capesize very large ore carrier (VLOC) with an overall length of 321.95 meters (1,056 feet). Fully laden, the vessel drew 20.326 meters (66 feet) of water and had a deadweight tonnage of 266,141 tons. She had 10 cargo holds.
Industry body Intercargo reports that from January 1 to 11 April 11, 2017 there were 79 bulk carrier incidents reported in media channels. The organization has issued a statement saying it is deeply concerned at the tragic loss of the Stellar Daisy.
The IMO and Intercargo have both called for a thorough investigation so that future casualties can be prevented.
"It is expected that there will be a full investigation into this accident and that the results and findings will be brought to IMO so that we can do whatever may be necessary to reduce the chances of such an incident happening again," said IMO secretary general Kitack Lim in a statement. "Thankfully these occurrences are rare; but when they do happen, they serve to remind everyone that the seafarers, on whom we all depend, do a difficult and sometimes dangerous job; and that those of us responsible for making the industry safer can never stop striving for improvements."