Philippines Prepares for Offloading of Stranded Chinese Bulker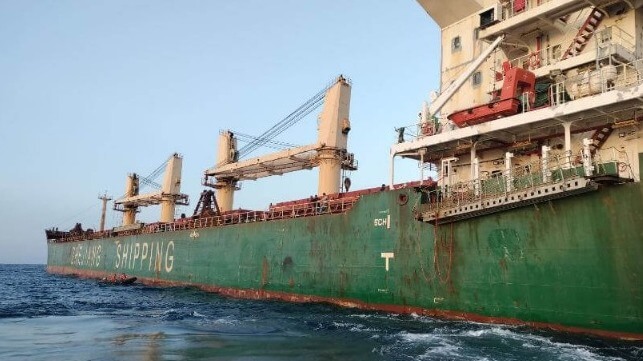 Ten days after a Chinese bulker first went aground in the eastern central region, the Philippines is preparing for the next phase of the salvage operation. The Philippine Coast Guard reported that it has given clearance for the salvage operation to begin after a survey confirmed that there has been no leakage or damage inside the vessel to this point.
The incident began on April 18 with reports of the bulker, Zhe Hai 168, grounding approximately 2.7 nautical miles off Eastern Samar province in the Philippine Sea. The 12-year old vessel is 57,000 dwt and was reported to be carrying a cargo of nickel ore loaded at Homonhon Island, Eastern Samar. The ship was sailing to Caofeidian, China where it was due to arrive on April 25.
A visual inspection was carried out on April 19 by the Coast Guard, Marine Environment Protection Unit, and the vessel's local agent. The MEPU also conducted a surface assessment for possible traces of oil and reports the tests have been negative.
The vessel, which is 623 feet in length, however, remains firmly stuck and has been unable to refloat using the available resources. The PCG reports the decision has been made to begin offloading the vessel before further attempts will be made to pull it free from the reef.
A salvage team from Singapore was due to reach the bulker today and will be placing a barge alongside. They will then temporarily transfer the cargo to the barge to lighten the ship so it can be floated off the reef. The ship was 20 crewmembers aboard who are reported to be in good health waiting for the salvage operation.
The Coast Guard is requiring that the salvage team install oil spill booms before beginning its work. The Coast Guard continues to monitor the situation and reports that it began a marine casualty investigation on April 22.
Once the vessel has been refloated, the Philippine Coast Guard will require another hull assessment. Divers will also evaluate the condition of the coral to determine potential damage claims.