Phase One of Gwadar Port Free Zone Inaugurated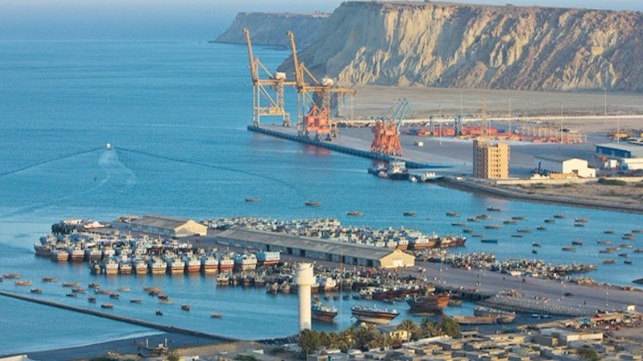 The first phase of Gwadar Port's free zone in Pakistan was inaugurated on Monday.
Speaking at the event, Zhang Baozhong, chairman of the port's operator China Overseas Ports Holding Company Pakistan (COPHC), said that with the construction of the free zone, the city of Gwadar will become a commercial hub in the region. Around 30 companies have invested in the free zone, with direct investment of about $474 million.
Gwadar is also hosting its first international expo with interest from businesses in Iran, China, Afghanistan, Saudi Arabia and Oman. Pakistan and China signed six agreements on Monday for further development of the port. Two agreements declared Pakistan's Gwadar and China's Tianjin as sister ports, and Gwadar and Piung as sister cities. Another agreement established cooperation between Pakistan State Oil, Gwadar International Terminals Limited and Gwadar port. The Securities and Exchange Commission of Pakistan, China's Free Trade Zone Company, Gwadar port and HATA Trade City also signed cooperation agreements. An MoU for a poverty alleviation initiative was also signed by the Gwadar district government and COPHC.
COPHC has a 40-year lease and has been building port infrastructure since 2013. Under the lease agreement, it will retain over 90 percent of revenue from Gwadar's marine operations, plus 85 percent of the revenue from the management of the free zone. It will also benefit from tax exemptions that Pakistan has granted to Chinese companies for projects related to the China Pakistan Economic Corridor (CPEC), a network of transportation infrastructure stretching from the Arabian Sea to the Chinese border. CPEC will connect Kashgar in northwestern China with Gwadar through a network of roads, railway lines, oil and gas pipelines and a fiber-optic cable.
India has opposed the project as the corridor passes through Pakistan-occupied Kashmir. Less than 100 nautical miles away, at the Iranian port city of Chabahar, the Indian government is moving ahead with a multipurpose port that is intended to give Indian companies better connections to Central Asian markets. The project is seen as a counterbalance to growing Chinese influence in the region.
Earlier this month, a Chinese defense analyst and a source close to the People's Liberation Army confirmed that China's navy plans to set up a base near the Port of Gwadar. It would be China's second overseas base after a recently-built facility in Djibouti.