Pew: Bluefin Fishery May Need Moratorium to Survive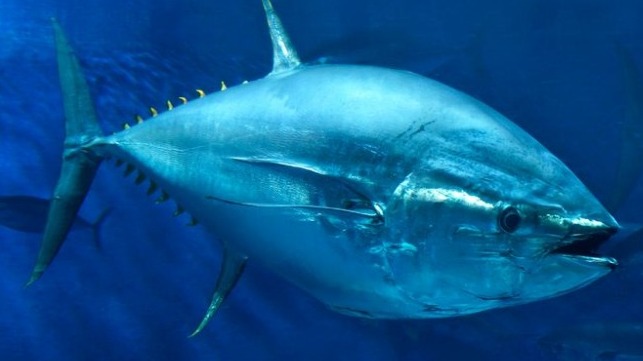 The Pew Charitable Trust reports that Mexico and Japan have already exceeded their agreed fishing quota for Pacific bluefin tuna, and it raised the possibility that an international moratorium may be required to stave off extinction.
While key nations in the Pacific bluefin fishery reached an agreement in September to limit catches and support the species' recovery, Pew says that there is little room for error. "Pacific bluefin tuna can't catch a break. Mexico, one of the leading fishing nations for this severely depleted species, ??officially exceeded its ?2018 quota just four months into the year on May 3," said Jamie Gibbon, an officer with Pew's tuna campaign. "If nations are unable to enforce the rebuilding plan and show that they are honestly tackling overfishing, the idea of an ocean-wide commercial fishing moratorium may have to be revisited as the last ditch option to save the species."
The Trust has previously singled out Japan for exceeding its limit for the threatened (and high-value) tuna fishery. Last May, Japan's fishing authorities raised the quota for 14 prefectures despite having already exceeded the agreed annual limit. "For Japan to raise the amount of fish that their fishermen can catch now, when the population is already depleted by more than 97 per cent, is extremely concerning and is in direct conflict with Japan's international obligation to help the species recover," said Pew campaign director Amanda Nickson in May 2017.
The latest official numbers may not fully reflect the impact of illegal, unregulated and unreported fishing. Japan ratified the UN's agreement on port state measures to deter IUU fishing last year; however, Japan Times notes that a network of Japanese fishermen from 12 prefectures were recently caught engaging in unreported and unauthorized bluefin fishing, and asserts that this practice "remains rampant" in Japan.
Japan is the largest producer and consumer of bluefin tuna. Wholesale prices for fresh bluefin at the Tokyo Tsukiji fish market currently average about $50 per pound, and celebratory year-end auctions can bring in more than $1,000 per pound.