Owner of F/V Thunder Hit with Fine in Spain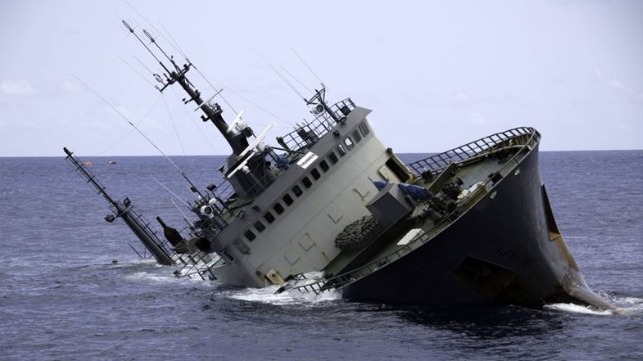 Florindo González Corral, the Spanish fishing tycoon who owned the pirate fishing vessel, the F/V Thunder, has been fined 8.2 million euros ($10.1 million) in a civil case brought by the Spanish government.
The F/V Thunder was an INTERPOL-wanted fishing vessel that was involved in more than 10 years of illegal fishing in the Southern Ocean before its captain deliberately sank the vessel in the Gulf of Guinea after a 110-day at-sea pursuit by Sea Shepherd vessels.
The captain and two of his crew, who were rescued by Sea Shepherd, were sentenced to three years in prison by a court in the island state of Sao Tome and Principe in 2015.
The owner, however, remained uncertain until a combination of evidence was seized that found irrefutable evidence linking González Corral to the F/V Thunder. Evidence was obtained by the Sea Shepherd crew from the sinking vessel, the investigative journalism work of Kjetil Saeter and Eskil Engdal of the Norwegian Business Daily, and raids of properties belonging to Galician fishing syndicates by law enforcement agents from the Spanish Ministry of Agriculture and Fisheries, Food and Environment (MAPAMA), the Guardia Civil (Spanish Federal Police) and INTERPOL.
In addition to fines spread across three companies and eight people connected to the F/V Thunder, the civil case resulted in a 12-year ban from fishing and receiving government fishing subsidies.
The fines, levied almost three years to the date of the sinking of the F/V Thunder, are indicative of the continued efforts by MAPAMA to bring the owners and operators of fishing vessels engaged in illegal, unreported and unregulated (IUU) fishing to justice. MAPAMA policing operations, under the name Operation Sparrow, named after Johnny Depp's character in the movie Pirates of the Caribbean, previously targeted other Spanish IUU toothfish operators, resulting Vidal Armadores, another toothfish poaching dynasty, being fined more than 17.8 million euros ($22 million).
"MAPAMA and the Guardia Civil have been instrumental in changing international perception of Spain as a haven for pirate fishermen," said Captain Peter Hammarstedt, Director of Campaigns for Sea Shepherd, who pursued the F/V Thunder for 110-days across three oceans.
"However, the F/V Thunder made a profit of 50 million euros ($61.8 million) during its toothfish poaching career, a number barely dented by an 8.2 million euro ($10.1 million) fine. Sea Shepherd would like to see the owner of the F/V Thunder join its captain in serving prison time and therefore hopes that these administrative fines are followed by criminal charges."