Over Seven Tons of Pangolin Scales Seized in Hong Kong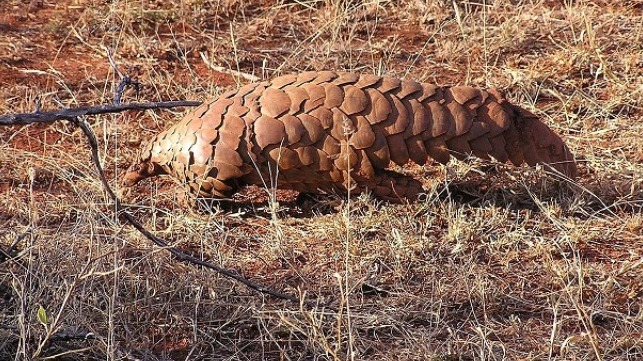 Hong Kong's Customs and Excise Department has seized over seven tons of pangolin scales in a shipping container that arrived from Africa bound for mainland China. The 7.1 ton haul is the second biggest of its kind for Hong Kong in a decade.
The container was inspected at the Tsing Yi customs cargo examination compound. It was claimed to contain plastic raw materials, but inspectors instead found 284 bags of pangolin scales.
In March this year, Hong Kong Customs seized about 2.8 tons of pangolin scales also from a container inspected at the Tsing Yi Cargo Examination Compound. The container was declared as containing scrap metal. The largest recent haul was of 7.2 tons of pangolin scales, found in a container from Nigeria, in May last year.
Pangolin seizure in March 2018.
An average of 20 tons of pangolins and their parts have been trafficked internationally each year with smugglers using 27 new global trade routes annually, according research released last year by TRAFFIC and IUCN. The report, The Global trafficking of pangolins: a comprehensive summary of seizures and trafficking routes from 2010–2015, was released in the wake of a record pangolin seizure, when China announced the seizure of 11.9 tons of scales from a ship in Shenzen.
The analysis of cross-border pangolin seizures has shown that at least 120 tons of whole pangolins, parts and scales were confiscated by law enforcement agencies from 2010 to 2015. It also shows that 159 unique international trade routes were used by traffickers during the six-year study period.
The study, by TRAFFIC and the University of Adelaide, noted the highly mobile nature of smuggling networks, with traffickers quickly shifting from commonly used routes after a short period and creating many new routes each year. The global nature of the trade is demonstrated, as 67 countries were implicated.
Known as the world's most trafficked mammal, all eight (four Asian and four African) species of pangolins are prohibited from international trade under CITES.
Under Hong Kong's Protection of Endangered Species of Animals and Plants Ordinance, any person found guilty of importing or exporting an endangered species without a license is liable to a maximum fine of HK$10 million ($1.3 million) and imprisonment for 10 years.
Rosewood Seized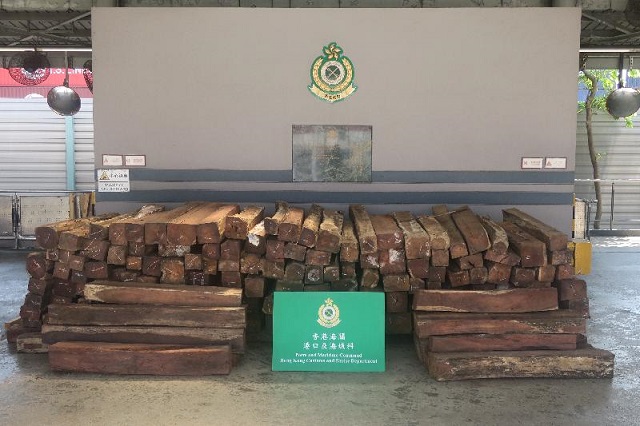 The Department's recent seizures have involved a number of illegal animal and plant products. On July 11, it seized about 26 tons of Guatemalan rosewood from a container at the Kwai Chung Customhouse Cargo Examination Compound. The seizure followed one a few days earlier of 8.7 tons of Thailand rosewood from a container at the same compound.
Shark Fins Seized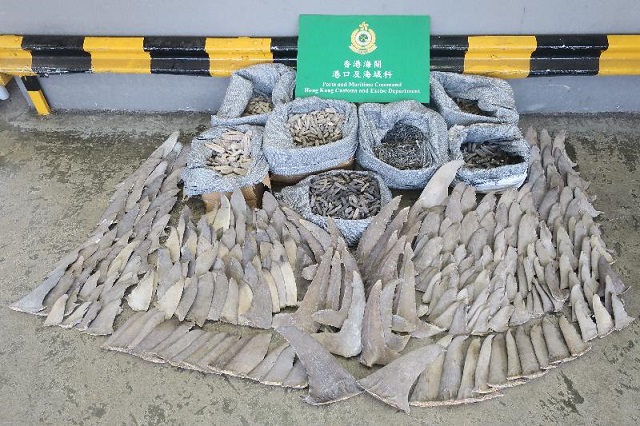 In the same week, the Department seized about 100 kilograms of dried shark fins of endangered species and about 220 kilograms of dried sea cucumbers from a container at the compound.
Action on Ivory
At the beginning of July, the Department mounted a joint-operation with Mainland Customs to combat cross-boundary ivory smuggling activities. During the operation, Hong Kong Customs seized about 277 kilograms of ivory with an estimated market value of about $2.77 million in San Tin. Eight people were arrested.
Mainland Customs earlier conducted investigations on a suspected cross-boundary ivory smuggling syndicate and took action on June 25. About 47 kilograms of ivory was seized. Six people were arrested.