OSU Moves Forward with New Class of Research Vessels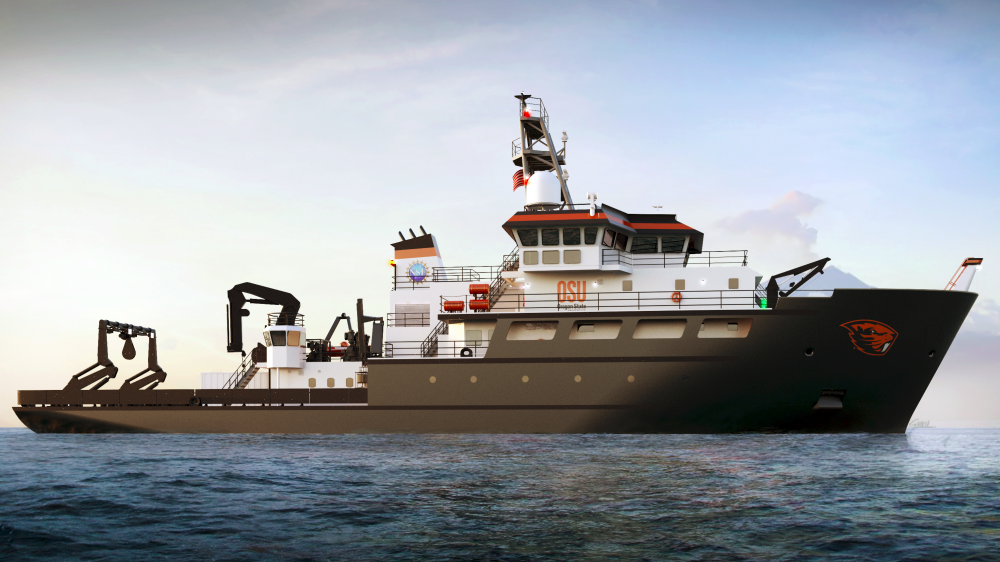 Oregon State University is moving ahead with the construction program for a series of Regional Class Research Vessels. On Monday, it published a detailed request for proposals, a first step in the selection of an experienced shipbuilder for the project.
OSU is a state-level institution, but it has been selected by the National Science Foundation to lead the design and procurement effort for the class. If funded, the ships would replace the aging research vessels Oceanus, Endeavor and the now-retired Wecoma. The design phase is already complete: Glosten Associates' detailed plans for the ship put the new vessel just short of 200 feet, with a payload of 66 tons (including permanent equipment) and berthing for 33. Its endurance would be three weeks, with a range of over 5,000 nm at 12 knots. Her propulsion would be via two Z-drives and two bow thrusters for DP-1 stationkeeping, a far cry from her predecessor's single screw and bow thruster.
The Oceanus and Wecoma (file image courtesy OSU)
The class is intended primarily for regional operations in the lower 48 states, but the specifications would allow ocean crossings and operations in light ice (ABS Ice Class C0).
"This class of ships will enable researchers to work much more efficiently at sea because of better handling and stability, more capacity for instrumentation and less noise," said Clare Reimers, a professor in the College of Earth, Ocean, and Atmospheric Sciences and the project co-leader. "The design also has numerous 'green' features, including an optimized hull form, waste heat recovery, LED lighting and variable speed power generation."
While planning is moving forward, federal funding for construction is not yet in place. The president's 2017 budget included $106 million in funding for beginning construction on two of the ships, but the House and the Senate committees responsible for finalizing the budget disagree on whether to support this amount: the Senate committee would fund three vessels (one more than the President's budget requested) and the House would effectively fund none at all. NSF program manager Brian Midson says that the differences will have to be worked out in conference when the House and Senate reconcile their versions of the FY2017 budget.
In the meantime, OSU is moving ahead with shipyard selection in expectation of funds. If and when the program gets the green light from Congress, Oregon State will receive the first vessel in the class.