Only in Seattle: Forgotten Bikes Lead to Man-Overboard Searches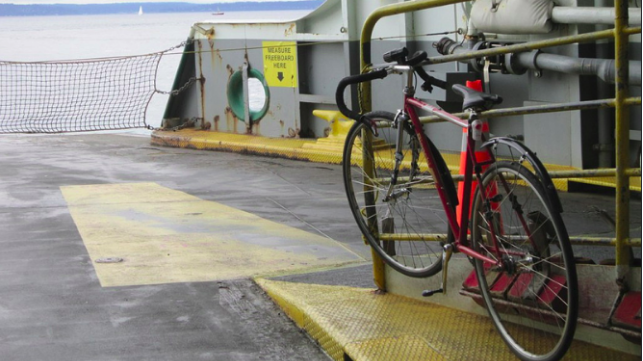 The U.S. Coast Guard and Washington State Ferries are reaching out to cyclists to remind them not to leave their bikes on the ferry - not because of the hassle of getting the lost equipment back to its rightful owner, but because an abandoned bike triggers a costly man-overboard search.
The Coast Guard has recorded 12 instances of bike abandonment aboard Washington ferries in the last 18 months, roughly one incident every 45 days. The state's department of transportation does not publish statistics on bicycle passengers, but cycle commuting and recreational cycling are popular in Seattle in general. Ferry users have an incentive to bike to the terminal rather than drive - they get to go to the front of the line during loading and unloading - and on busy routes, it isn't uncommon to see dozens of cyclists ride on and off at peak hours.
Even if the abandonment rate is relatively low, every bike left behind incurs a real cost. The USCG says that it is the duty of Coast Guard and ferry personnel to treat an abandoned bike as a potential distress situation until the cyclist can be confirmed safe. More than a dozen Coast Guard employees respond when a bike is left on a Washington State Ferries vessel, and it can take hours to make sure that it is a false alarm. This ties up resources like helicopters and response boats that could be used for real distress situations. A search can cost tens of thousands of dollars, and SAR personnel have to put themselves at risk searching for nonexistent man-overboard victims.
Rented bike-share bikes are a particular problem, the Coast Guard says. Infrequent cyclists and tourists who rent a bike-share bike for a casual excursion may forget they rode on board and depart the ferry on foot. Due to the frequency of ride-share bikes left aboard, the Coast Guard and Washington State Ferries are urging (but not yet requiring) passengers to leave rented bikes at the pier and board as walk-on passengers. Just last week, an abandoned ride-share bike resulted in a $17,000 helicopter search along a ferry route, the Coast Guard said. No one had fallen overboard.
"When bicycles are left behind on a ferry, the Coast Guard assumes the worst and searches in the event the bicycle operator may have fallen overboard. We join the Washington State Ferry system in requesting that bike-share users not bring rented bicycles on board the ferries," said Capt. Linda Sturgis, commander, Coast Guard Sector Puget Sound. "[And] for all passengers, we request you leave with the bikes you bring onboard."