One Dead, Three Injured in Lifeboat Drill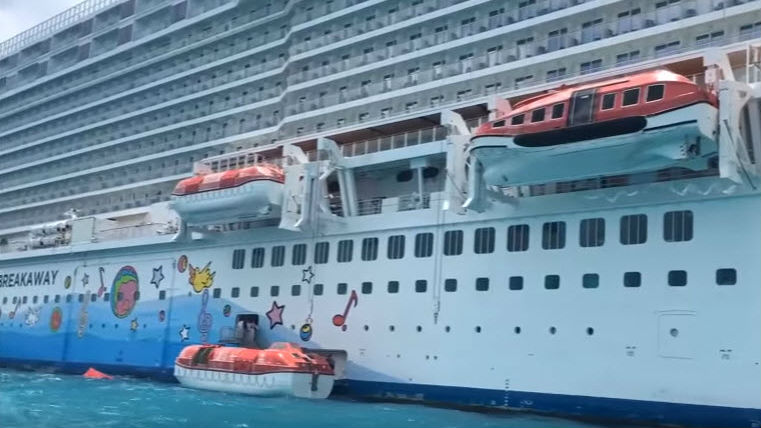 A 41-year-old Filipino crew member from the Norwegian Breakaway has died as a result of a lifeboat training drill in Bermuda.
Three others were injured after the lifeboat they were in broke free during the ship's weekly safety drill. According to a Bermuda Maritime Operations spokesman, the lifeboat was left hanging from one wire, resulting in the four crew members falling into the water.
A statement released by NCL said: "On July 20 while Norwegian Breakaway was alongside in Bermuda, an incident occurred involving the ship's rescue boat during a routine drill, affecting four crew members.
"The ship's medical team provided immediate care on-board the vessel and the crew members were transported to the local hospital for further medical treatment.
"The company is providing full support and care to the crew members involved and is working closely with the relevant authorities to investigate the incident."
The Norwegian Breakaway had arrived at Heritage Wharf from New York. It is expected to return to the East Coast of the United States on Friday.
Accident Rate Unacceptably High
In recent years the maritime industry has suffered an unacceptably high number of accidents with lifeboats in which crew were injured, sometimes fatally, whilst participating in lifeboat drills. Most of the most accidents occur because of:
• Failure of on-load release mechanism;
• Inadvertent operation of on-load release mechanism;
• Inadequate maintenance of lifeboats, davits and launching equipment;
• Communication failures;
• Lack of familiarity with lifeboats, davits, equipment and associated controls;
• Unsafe practices during lifeboat drills and inspections; and
• Design faults other than on-load release mechanisms.
IMO Works to Improve Safety
In May this year, the IMO Maritime Safety Committee adopted a number of key regulatory changes including regulations designed to improve the safety of rescue craft.
MSC adopted amendments to SOLAS regulations III/3 and III/20 to make mandatory the new requirements for the maintenance, thorough examination, operational testing, overhaul and repair of lifeboats and rescue boats, launching appliances and release gear.
The package of provisions, with an expected entry into force date of January 1, 2020, aims to prevent accidents with survival craft and addresses longstanding issues such as the need for a uniform, safe and documented servicing standard, as well as authorization, qualification and certification requirements.
The adoption of the amendment and requirements for maintenance, thorough examination, operational testing, overhaul and repair represents the culmination of some ten years work on the issue. The intention is to ensure that seafarers can be confident that they can fully rely on IMO-mandated life-saving equipment.