Ørsted Completes Acquisition of Deepwater Wind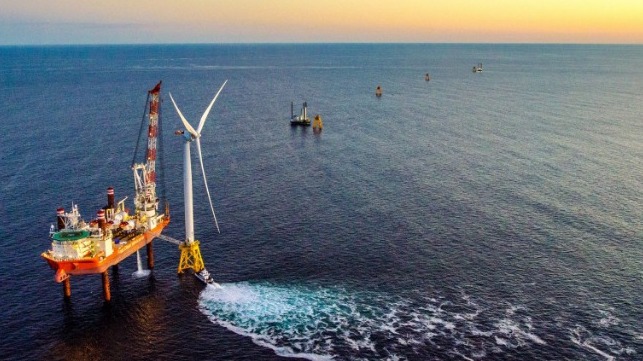 Ørsted has obtained approval by U.S. competition authorities completed the acquisition of a 100 percent equity interest in Deepwater Wind.
Ørsted entered into an agreement with the D.E. Shaw Group to acquire a 100 percent equity interest in Rhode Island-based Deepwater Wind earlier this month at a purchase price of $510 million.
The two companies' offshore wind assets and organizations will be merged to become the group with most comprehensive geographic coverage and the largest pipeline of development capacity in the U.S.
Deepwater Wind's portfolio has a total potential capacity of approx. 3.3GW comprising:
• Block Island (30MW), the only operational offshore wind farm in the U.S. Block Island comprises five General Electric 6MW turbines with a total capacity of 30MW. The Block Island wind farm, located three miles from Block Island, Rhode Island, came into operation in December 2016.
• Three offshore wind development projects in Rhode Island, Connecticut, Maryland and New York totaling 810MW of capacity with long-term revenue contracts in place or pending finalization.
• Approximately 2.5GW of offshore wind development potential across three lease areas in Massachusetts and Delaware. Of this, 1.2GW is developed through an equal joint venture with PSEG, a New Jersey utility.
Ørsted's current U.S. offshore wind portfolio has a total capacity of approx. 5.5GW comprising:
• Development rights for up to 2GW at the Bay State Wind site off the coast of Massachusetts owned in a joint venture with Eversource.
• Development rights for up to 3.5GW at the Ocean Wind site off the coast of New Jersey.
• In Virginia, Ørsted will be constructing two 6MW wind turbine positions for phase one of Dominion Energy's Coastal Virginia Offshore Wind Project. Ørsted has exclusive rights with Dominion Energy to discuss the potential development of up to 2GW of offshore wind capacity.
With the combined organization and asset portfolio, Ørsted will be able to deliver clean energy to the seven states on the U.S. East Coast that have already committed to build in total more than 10GW of offshore wind capacity by 2030.
The name of the new organization is Ørsted US Offshore Wind. It will be represented by a local management team headed by Ørsted US Offshore Wind CEO Thomas Brostrøm, Co-CEO Jeff Grybowski, President and CFO David Hang both from Deepwater Wind, and COO Claus Bøjle Møller from Ørsted.