Ocean Infinity Commences ARA San Juan Search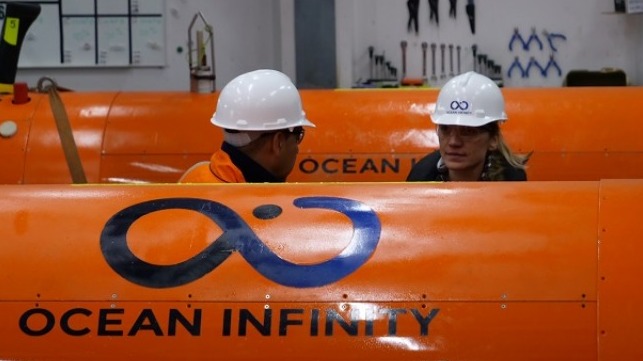 Seabed exploration company Ocean Infinity has started searching for the ARA San Juan - the Argentine Navy submarine which was last heard from on November 15, 2017.
Ocean Infinity has committed to conduct the search operation on behalf of Argentine authorities for up to 60 days and will take on the economic risk, only receiving payment if the submarine is found.
Search operations have commenced in the Atlantic Ocean approximately 300 nautical miles east of Comodoro Rivadavia. The Argentine Navy and the United Kingdom's Royal Navy assisted in determining the search area.
Ocean Infinity is using five autonomous underwater vehicles (AUVs) to carry out the search, which will be conducted by a team of approximately 60 crew members on board Seabed Constructor. In addition, three officers of the Argentine Navy and four family members of the crew of the ARA San Juan have joined Seabed Constructor to observe the search operation.
Ocean Infinity's AUVs are capable of operating in water depths from five to 6,000 meters. The AUVs are not tethered to the vessel during operations, allowing them to go deeper and collect higher quality data for the search. They are equipped with a side scan sonar, a multi-beam echo-sounder, a sub-bottom profiler, an HD camera, a conductivity / temperature / depth sensor, a self-compensating magnetometer, a synthetic aperture sonar and a turbidity sensor.
The ARA San Juan was returning from a routine mission to Ushuaia, near the southernmost tip of South America, when her crew reported an electrical breakdown related to the submarine's batteries. The submarine and her 44 crewmembers were ordered to return to the naval base at Mar del Plata for repairs, but she was not heard from again, and a catastrophic explosion was recorded in the area where the submarine went missing.
More than 12 countries were involved in the initial search which involved around 27 ships and 18 aircraft, along with tens of fishing vessels. The search operation was carried out under the auspices of ISMERLO, an international organization of over 40 countries set up in 2003 following the Kursk submarine disaster.