Nor-Shipping Vessel Awards Shortlist Announced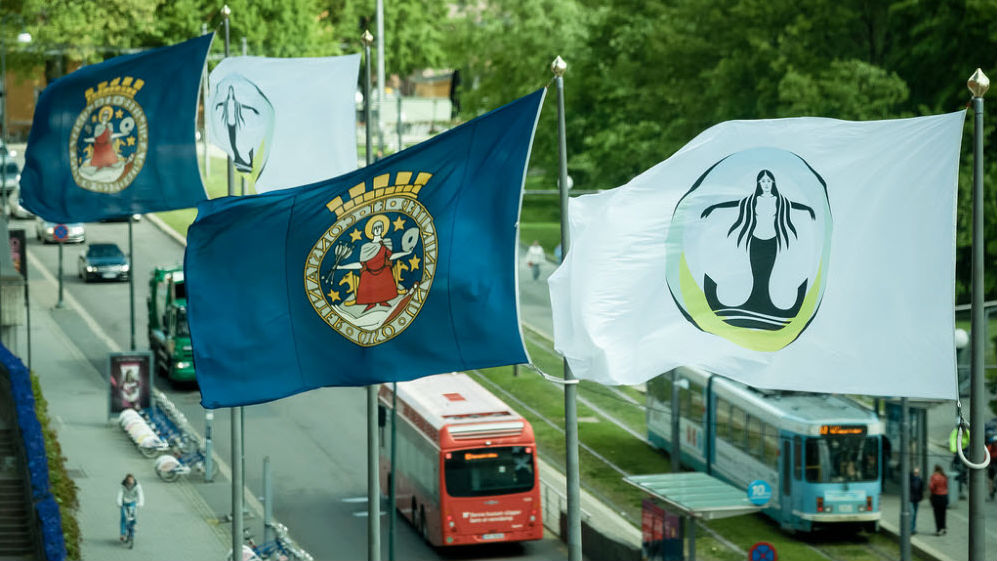 After much deliberation, the two juries have selected four candidates for each of the shortlists for the 2017 Energy Efficiency and Next Generation Awards.
The four vessels chosen for the shortlist of the Energy Efficiency Award included a LNG carrier, a bulk carrier, a cruise ship and a ro-pax ferry while the Next Generation Award shortlist comprised a container vessel concept, an IMO II type chemical/product tanker, and two quite different ferry types.
The four ships on the Energy Efficiency Award shortlist are: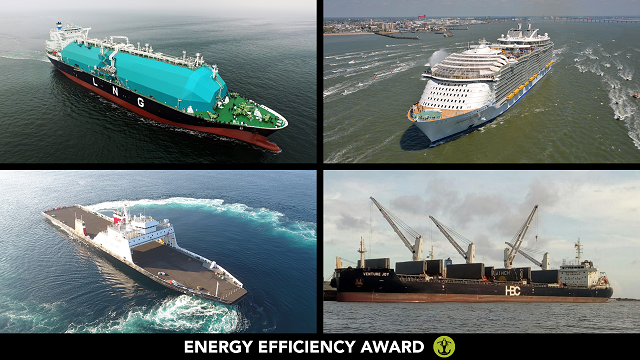 Harmony of the Seas, the latest and largest in the Oasis Class which features no less than 89 different energy efficiency improvements over the original ship that have all contributed to making the vessel 20 percent more efficient. With so many initiatives implemented, it was not "one" major improvement that drove the incredible results, but rather the holistic approach which evaluated and addressed every function on board: propulsion, hull design, power generation, energy recovery, machinery, hotel and HVAC. Entered by Royal Caribbean and STX France.
Seaspan Swift, the first of two innovative ro-pax ferries with an LNG/Hybrid propulsion system consisting of Wärtsilä duel fuel engines which run mainly on LNG and a Corvus battery energy storage system. The vessels were designed by VARD Marine in Canada and built in Turkey. The ship will usually have 60 road trailers on board. Changes made to the hull during development allowed for a 14 percent efficiency improvement and a massive reduction in the GHG emissions calculated on a per trailer basis compared to the ships they are replacing. Entered by Seaspan Ferries Canada.
Seri Camellia, a LNG carrier with Moss type tanks enclosed by an Integrated Hull System which adds strength to the hull but allows for a decrease in steel weight while at the same time improving aerodynamic efficiency compared to conventional Moss tank type ships. The ship also features Mitsubishi's Ultra Steam Turbine Propulsion Plant, a two-stage feed water heating system which utilizes heat recovery to achieve 13 percent improvement in efficiency over conventional steam turbines. A variety of other energy saving devices and environmentally friendly systems also feature. Entered by MISC Berhad, Malaysia.
Venture Joy, a 43,500dwt, geared Handysize bulker designed by Deltamarin for Hamburg Bulk Carriers, Germany. The vessel's optimized hull form and propulsion system have allowed it to meet EEDI Phase III requirements nine years ahead of the introduction. This represents a 30 percent CO2 emission reduction over current rules and around 40 percent on the average for the current fleet of this 'workhorse' ship type. The ship is also fitted with an LNG dual-fuel ready engine which could allow for a further 20 percent reduction with the installation of LNG tanks and fuel system. Entered by Hamburg Bulk Carriers, Germany.
For the Next Generation Award the four shortlisted vessels are: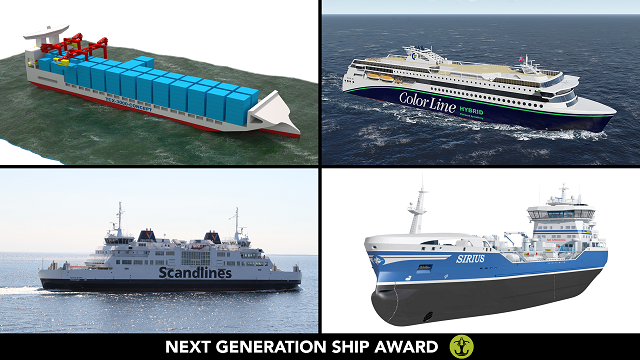 Container feeder ship designs developed by Danish naval architects Knud E Hansen. Three ship types were proposed; a 2,000teu vessel optimized for shallow water ports where the needed small propeller diameter is replaced by a more efficient dual arrangement of fixed propeller and contra-rotating azipod, 3,800 TEU type with a larger single propeller type for deeper ports with a dual-fuel power plant and an innovative trimaran hull form 3,000 TEU ship which overcomes cargo handling problems associated with high sided narrow vessels and allows for faster speeds and a better cargo mix. Entered by Knud E Hansen Denmark.
Product/chemical tanker design FKAB 7990 for use in SECAs. The ship is 7990dwt, 9,700 m3, Tier III oil product tanker for chemicals (IMO II). It is designed for low fuel consumption and high cargo capacity. Planned to be LNG ready with deck fitment of two LNG type C tanks. Propulsion is provided by a medium speed dual fuel engine with a gearbox to be fitted with PTO and shaft generator coupled to a CP propeller. PTI 'Take me home' device, through a retractable bow thruster from the auxiliaries. In order to save fuel, the shaft generator is connected via a frequency converter allowing optimum propeller rpm at various speeds. Alternatively, a four stroke engine can be fitted. Entered by Sirius Shipping, Sweden.
Large hybrid plug in ferry for Color Lines operating internationally between Norway and Sweden. The ship will be a plug-in hybrid, in which the batteries are recharged via a power cable with green electricity from shore facilities or, as a secondary alternative, recharged on board by the ship's four main generators. The 160 meter (525 foot) loa and 27.1 meter (89 foot) beam vessel which will have a gross tonnage of around 30,000gt making it the world's largest hybrid can accommodate 2,000 passengers and 500 cars. The battery arrangement means that the vessel can operate without emissions in sensitive areas or port environments. Entered by Color Line, Ulstein Verft and Fosen Yard all from Norway.
Conversion of two existing diesel-powered ferries to all electric operation. The two ferries, Tycho Brahe and Aurora will be the world's largest emission-free electric ferries, and delivered with first automated shore-side charging station. The battery power of each ferry will be 4,160kWh. The conversions involve batteries, an energy storage control system and Onboard DC Grid technology. At both ends of the route ABB will supply the first automated shore-side charging stations using an ABB industrial robot, to optimize the connection time and therefore maximize the charging period. Entered by HH Ferries, Sweden and ABB, BU Marine & Ports, Denmark.
A meeting of the juries in London in April will determine the winner of each category with the announcement of the winner and presentations of all shortlisted entrants being made at the Nor-Shipping opening ceremony on Tuesday, May 30.