NOAA Partners With Offshore Wind Industry on Environmental Monitoring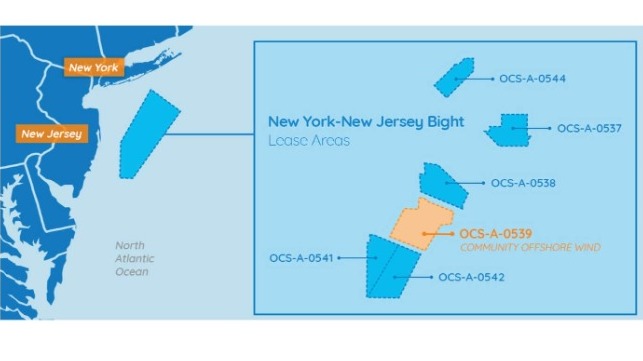 NOAA and Community Offshore Wind (COSW) - a joint venture between RWE and National Grid Ventures - have signed a 5-year cooperative research and development agreement to exchange data and expertise. The agreement focuses on informing development of an environmental monitoring program for COSW's offshore wind project off New York and New Jersey.
The partnership is the first of its kind in the offshore wind industry, creating a platform for developers and federal experts to work together in monitoring potential impacts of development on marine ecosystems.
The research cooperation also supports NOAA's ongoing environmental monitoring across the New York Bight. This process will inform best practices for establishing environmental observation systems on new offshore wind projects in the region.
"With help from a number of collaborators and the fishing industry, our agency maintains some of the world's most comprehensive data sets on large marine ecosystems. Our goal is to bring offshore wind energy monitoring activities into this partnership," said Jon Hare, director of NOAA's Northeast Fisheries Science Center.
Under the cooperative research and development agreement, NOAA and COSW will establish an environmental monitoring program for COSW's project in the New York Bight. Their hope is that new data and monitoring innovations from the program will ensure COSW's project is developed in a more responsible and environmentally conscious way. Tthe collected monitoring data will be integrated into fishery, habitat and protected resource assessments in the region.
Last year, the U.S. Department of the Interior completed one of the country's biggest offshore wind auctions in the New York Bight, offering six lease sites that gathered a total of $4.37 billion.
COSW won one of the largest and most expensive sites, area OCS-A0539, with a winning bid of $1.1 billion. The awarded seabed has the potential to host 3 GW of installed offshore wind capacity. The project is expected to be in operation by the end of the decade – if financial circumstances allow it. Recent hikes in interest rates and rampant inflation in the supply chain have radically changed the economics of offshore wind over the past year, prompting developers to renegotiate electricity sale contracts and to demand larger government incentives. Earlier this month, a UK rate-guarantee auction which has always been highly competitive drew no bids at all.