Ningbo-Zhoushan Record Highlights China's Growth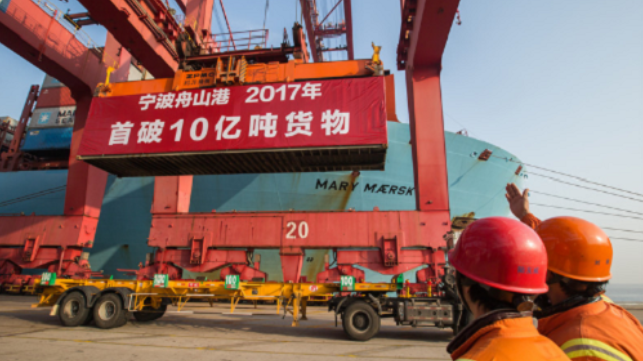 Late last year, Ningbo-Zhoushan port in China reported that its annual cargo throughput has hit one billion tons. Located at the intersection of Silk Road Economic Belt and the 21st Century Maritime Silk Road on the south wing of Yangtze River Economic Belt, Ningbo-Zhoushan Port has the largest deepwater berths and most arrivals of China's ports.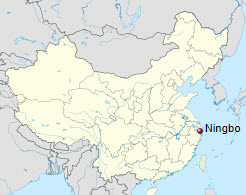 The port's sea routes increased to 86 after China's Belt and Road initiative, a campaign to boost trade and stimulate economic growth across Asia and beyond, secured cooperation agreements with 20 other ports. Additionally, the port launched sea-rail transport services with 11 trains providing services to 36 cities in 14 provinces in China as well as countries in central and northern Asia and eastern Europe. Container handling volume of its sea-rail transport is expected to surpass 400,000 standard containers this year, a 60 percent increase year-over-year.
National Growth
Ningbo-Zhoushan handled over 10 million TEU from countries along the Belt and Road in 2017, up 16 percent year on year, and it's growth is mirrored in other regions of China. Container growth through China's top ports more than doubled in 2017 to 7.1 percent, pushing volume to over 200.3 million TEU, according to the Journal of Commerce. Accelerating growth in U.S. imports from Asia last year, from 3.7 percent to 5.5 percent, helped drive the jump in volume. Shanghai's 8.4 percent increase carried the port past 40 million TEU for the first time, Ningbo-Zhoushan container business was up 14.1 percent to 24.6 million TEU, and Xiamen grew eight percent to 10.4 million TEU.
Leading Chinese port operator China Merchants Port Holdings (CMPort) also set a 2017 record, handling a total container throughput of 102.93 million TEUs in its port businesses, up 7.5 percent and representing a breakthrough of 100 million TEUs. China Merchants Group, founded in 1872, was a pioneer in the development of China's modern port and shipping industry and has expanded it's Chinese footprint from its Western Shenzhen homebase to major hub locations such as Zhangzhou, Shanghai, Ningbo, Qingdao, Tianjin and Dalian. For the 2017 record, ports in mainland China handled 77.10 million TEUs, Hong Kong and Taiwan handled 7.48 million TEUs and overseas ports handled 18.35 million TEUs.
2018 Growth
China's merchandise exports by value are forecast to continue increase from 11.8 percent growth in 2017 to 12.3 percent in 2018, according to IHS Markit data. A similar trend of 5.4 percent growth this year compared with 4.3 percent last year is predicted for U.S. imports.
The International Monetary Fund said this week that China's year-on-year GDP growth is projected to reach 6.6 percent this year, 0.1 percentage point higher than its previous forecast.
Export growth is expected to continue to be a main contributor to China's growth.