Nigeria Detains Security Contractors During Anti-Piracy Sweep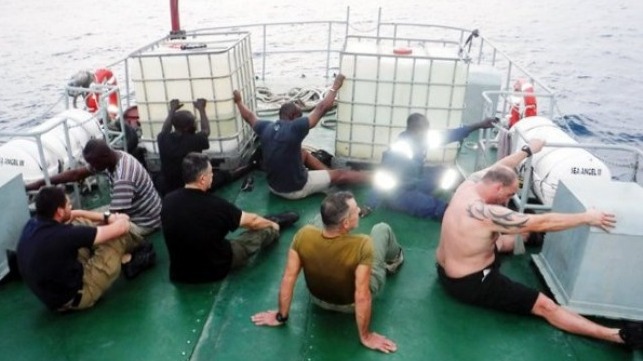 Nigerian authorities have arrested nine private maritime security contractors (PMSCs) during a multinational anti-piracy sweep in the Gulf of Guinea. The Nigerian Navy detained the civilian anti-piracy personnel on suspicion of illegal firearms possession. Four semiautomatic rifles were found on board, along with ammunition and assorted tactical equipment.
In addition to five Nigerian citizens, the suspects include four foreign nationals. These individuals have been identified as Angelopolous Spyridon, 54, Kappis Christos, 57, and Petropoulos Stylianos, 34, all Greek nationals; and Zanski Michael-Anderson, 50, an American citizen.
The arrests occurred during a joint U.S.-Nigerian maritime security operation, the annual Junction Rain exercise.
"There were nine suspects on the first boat arrested. The boat was looking like a naval boat and when we made initial contact, the captain made us believe that he was in our waters for routine patrol waiting for a merchant vessel," said Nigerian Navy Commodore Dickson Olisemenogor, speaking to local media. "They did not tell us where they were coming from and that was why we arrested them. They earlier switched off some of the equipment to make it difficult for you to detect them, but unfortunately for them, we have the equipment on board to detect whoever is at sea. No criminal can hide again in our waters."
The detainees' employer, U.S.-based maritime security firm Trident Group, told media that the arrest occurred in international waters, outside of Nigerian jurisdiction. The weapons were properly licensed, according to the firm.
The Nigeria Immigration Service asserted that none of the detainees have passport stamps or visas indicating that they had entered Nigeria legally. The allegaton may be accurate: if the Sea Angel III was in international waters, the detainees may have arrived at that location without ever entering Nigeria at all.
Nigeria forbids the use of embarked armed security contractors in its territorial seas, which are the most dangerous region in the world for maritime hijacking and kidnapping. Instead, shipping interests may hire privately-operated escort vessels carrying armed Nigerian Navy security personnel.