NGO Shipbreaking Repeats Call for Reforms as Scrapping Levels Decline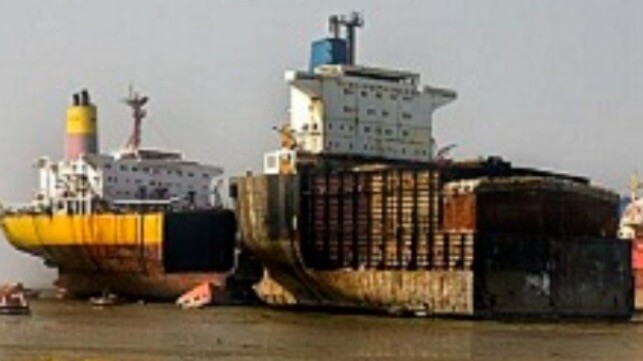 Last year saw a strong decline in shipbreaking activity worldwide. South Asia's shipbreaking yards were especially hard hit with the strongest declines. Yet despite the long-term trends toward lower volumes, NGO Shipbreaking is continuing its call for reforms and a focus on new forms of recycling that would contribute to global emission efforts.
New data released by the NGO Shipbreaking Platform shows that worldwide a total of 443 ocean-going commercial ships and offshore units were sold for scrapping in 2022. According to their year-end report, the NGO highlights that only 10 percent, a total of 49 ships, were dismantled in Alia?a, Turkey, a site where six European Union-approved ship recycling yards are located.
The nations of South Asia remained the preferred destination for end-of-life vessels, dismantling 80 percent of the global end-of-life gross tonnage. The NGO reports 292 large tankers, bulkers, floating platforms, cargo, and passenger ships were scrapped on the beaches in Bangladesh, India, and Pakistan. This represented the lowest volume in the region in over a decade.
The significant decline in the number of vessels scrapped in South Asia was attributed to multiple factors, including the high ocean freight rates that made it profitable for commercial shipping companies to continue operating older vessels. The number of containerships and large tankers sold for scrap fell to the lowest levels. In addition, regional financial issues made it difficult for banks to provide credit and for companies to purchase end-of-life vessels.
According to the NGO, shipbreaking on the beaches of South Asia however continues to cause serious harm to workers and the environment despite a decline in the number of ships scrapped. During the year, at least 10 workers lost their lives while 33 workers suffered injuries while working at the yards on the beach of Chattogram, Bangladesh. There were three deaths in Alang, India, and three injuries in Gadani, Pakistan.
The platform also continues to highlight well-known shipowners who continue to send vessels to the breakers in Asia. Singapore-based dry bulk owner Berge Bulk was highlighted for sending ships for several years in a row to the Asian yards. The company scrapped four carriers in Bangladesh and India, reaching a total of 24 vessels beached in the last 10 years according to the report. Similarly, the Brazilian state-owned company Petrobras was ranked second by the report. The oil giant sold another four of its old tankers and two of its old floating platforms for dismantling on South Asian beaches last year, reaching a total of 34 vessels over the last decade.
"Companies have a duty to eliminate the negative impacts that their commercial decisions have on the environment and people. End-of-life vessels are hazardous waste and taking them apart on tidal beaches is by far the worst industrial practice," said Ingvild Jenssen, NGO Shipbreaking Platform Executive Director and Founder.
The NGO also reports that Chinese owners sold 28 ships for scrapping in South Asia, most of which were beached in Bangladesh. Russia, Singapore, the United Arab Emirates, and Greece followed with each sending more than a dozen ships to be beached.
The NGO reckons stresses that although environmental and labor laws that regulate ship recycling exist, they are ignored and easily circumvented by shipowners, often with the aid of scrap dealers. In 2022, they highlight that more than half of the ships sold to South Asia changed their flag to one of the grey- or black-listed flags of Cameroon, Comoros, Palau, St Kitts & Nevis, or Tanzania, often just weeks before hitting the beach. At least eight of these flag changes NGO Shipbreaking contends enabled shipowners to circumvent the EU Ship Recycling Regulation. Seven vessels, including one owned by Italian Finbeta ended up on a beach instead of being recycled in an EU-approved facility as the regulation requires.
"Existing laws are way too easy for shipowners to circumvent. This reality begs for the introduction and enforcement of measures that effectively hold the real beneficial owners of the vessels responsible in their own jurisdictions, regardless of the flags used and ports of departure for scrapping," said Jenssen.
With the number of ships that will need to be dismantled projected to surge, the NGO is calling for a growing focus on circularity and the urgent need to reduce carbon emissions from the ship recycling sector. They highlight that forward-looking governments are developing policies to increase access to scrap steel for green steel production, coupling that with measures to encourage the development of sustainable ship recycling capacity.