NGO: High Fatality Rate Continues at S. Asian Shipbreakers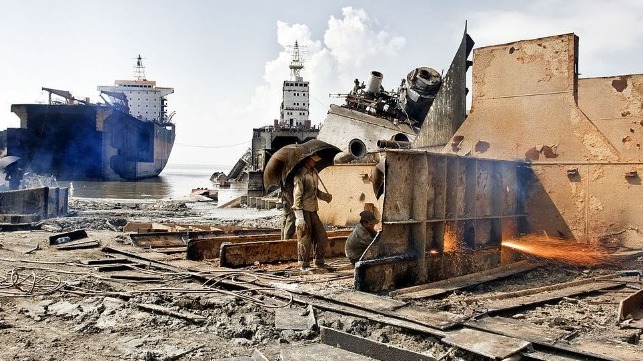 Shipbreakers in Bangladesh, India and Pakistan purchase and recycle the great majority of the world's outdated tonnage, but they carry out their work at a high human and environmental cost, according to advocacy association NGO Shipbreaking Platform. In the first quarter of the year, the group's partner organizations recorded ten fatalities in Chittagong and two more in Alang. As not all accidents are recorded, the group notes, the total for Q1 may be higher.
Among others, the reported fatal accidents in Bangladesh included:
- a fire aboard the former tanker Pacific Cape at Jamajuna Shipbreaking, which killed one and injured two;
- one killed in a fall and one killed by a falling steel plate during dismantling of the former tanker Ekta;
- one killed in a fall aboard the former tanker Tina;
- one killed in a fire inside a tank at Khawja Shipbreaking;
- one killed in a fall and one struck and killed by a falling piece of iron at M.A. Ship Breaking.
In addition, local media reported two fatalities due to a toxic gas leak at Alang Plot 32 in mid-March.
According to the latest brokerage rates, South Asian shipbreakers will pay up to $450 per LDT for outdated vessels, up to twice as much as the rates found at facilities in Turkey and China. This translates into a multi-million-dollar price differential for the seller of the vessel.
Transfers to South Asian shipbreakers are always handled by a cash buyer, a business intermediary who purchases the ship from the owner and resells it, according to the NGO. The ships are generally reflagged for their final journey, and a small number of commercially-operated flag states provided the demolition voyage registry for about half the vessels sold in the first quarter.