New Zealand Says ?No? to New Offshore Permits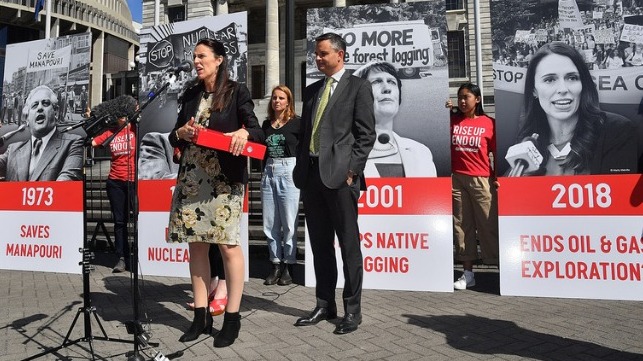 New Zealand Prime Minister Jacinda Ardern has announced that her Coalition Government will not grant any more offshore oil and gas exploration permits.
"We are protecting existing exploration and mining rights. No current jobs will be affected by this as we are honoring all agreements with current permit holders," said Ardern.
There are 31 oil and gas exploration permits currently active, 22 are offshore. These permits cover an area of 100,000 square kilometers, nearly the size of the North Island, and run as far out as 2030 and could go an additional 40 years under a mining permit.
"We are providing certainty for industry and communities so they can plan for the future. We are making careful and considered changes over time and supporting communities with a managed transition," she said. "All three of the parties in this Government are agreed that we must take this step as part of our package of measures to tackle climate change."
Greenpeace Executive Director, Russel Norman, says the Government has listened to people throughout the country who have campaigned for seven years to bring an end to offshore oil and gas exploration. Last month, Ardern's accepted a 50,000 strong Greenpeace petition in person.
"Prime Minister Jacinda Ardern and her Coalition Government have taken an historic step and delivered a huge win for the climate, spurred on by the tens of thousands of people and environmental NGOs like Greenpeace who have fought for years to end new oil and gas exploration," he says.
"Today's announcement is significant internationally too. By ending new oil and gas exploration in our waters, the fourth largest Exclusive Economic Zone on the planet is out of bounds for new fossil fuel exploitation. New Zealand has stood up to one of the most powerful industries in the world."
National MP Jonathan Young say the ban is economic vandalism. "This decision will ensure the demise of an industry that provides over 8,000 high paying jobs and $2.5 billion for the economy," says Young, Energy and Resources spokesman. "This decision is devoid of any rationale. It certainly has nothing to do with climate change. These changes will simply shift production elsewhere in the world, not reduce emissions.
"Gas is used throughout New Zealand to ensure security of electricity supply to every home in New Zealand. Our current reserves will last less than 10 years. When they run out, we will simply have to burn coal instead, which means twice the emissions."
Young says: "This is simply Jacinda Ardern destroying an industry in the cause of a political slogan pushed by Greenpeace."