New Russian Icebreaker Catches Fire at St. Petersburg Yard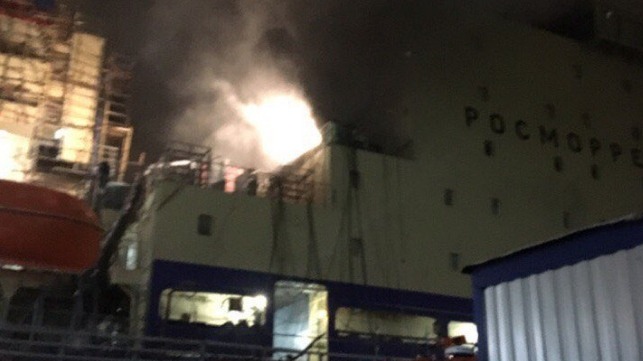 On Tuesday, a fire broke out aboard the new diesel-electric icebreaker Viktor Chernomyrdin, which is nearing completion at St. Petersburg's Admiralty Shipyard. Two individuals were injured in the incident, including one who was hospitalized.
According to state media, the fire broke out at about 1900 hours Tuesday evening. A massive response effort involving 140 personnel and 39 firefighting vehicles brought it under control by 2100 hours, and responders fully extinguished it by 2215.
The blaze affected the vessel's third and fourth deck levels, and it burned about 3,200 square feet of the vessel's interior space, according to TASS. The fire reportedly affected compartments containing electrical equipment and wiring, among other areas.
The Viktor Chernomyrdin was nearing completion at the time of the fire, and she was due to enter service by the end of this year. At 22,000 tonnes, she will be the largest diesel-electric icebreaker in the world, though less powerful than several Russian and American vessels of the same class. She is designed to make two knots through seven feet of ice, both ahead and astern.
The Chernomyrdin's construction has already been set back by three years due to a combination of internal and external factors, including Western sanctions, currency devaluation and design errors. In late 2013, one year after her keel was laid, engineers discovered that she would be 2,500 tons overweight due to a mistake in drafting. Admiralty Shipyard, a St. Petersburg yard that normally specializes in submarines, took over her construction last year.