New Dubai Cruise Terminal Planned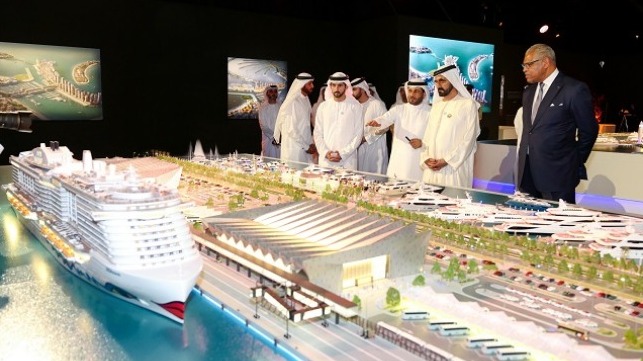 The UAE is expanding its tourism sector with plans for a new cruise terminal in Dubai approved by the government this week.
The Dubai Cruise Terminal will become Carnival Corporation's primary hub for its homeporting and transit operations in the region, and Carnival Corporation has signed a deal with local developer Meraas aimed at developing the city into a major regional maritime tourism hub. Under the agreement, the companies will collaborate across several strategic areas including port development, terminal management and new cruise development opportunities at Dubai Harbour and the broader region.
Carnival Corporation will launch new cruises from Dubai Cruise Terminal and aims to attract new source markets from India and China. The cruise terminal is designed as a strategic maritime center, providing easy access to and from the city, while offering passengers a view of iconic landmarks, such as Ain Dubai and the upcoming Dubai Lighthouse, as well as the Dubai's unique urban skyline.
Dubai Harbour will be home to two cruise terminal buildings, spanning a total of 30,000 square meters, joined by a single quay of about one kilometer, capable of accommodating up to three cruise ships concurrently, including Carnival Corporation's newest and most advanced cruise ships, as well as up to 13,200 passengers at a time. In anticipation of an upsurge in cruises, Meraas has planned for the addition of two more terminal buildings that will increase capacity to six cruise ships at the same time.
Operations at the Dubai Cruise Terminal are scheduled to commence in October 2020. The terminal will become the main cruise terminal in Dubai, and all cruise ships visiting Port Rashid will be redirected gradually from its opening date.
The agreement mandates Carnival Corporation to assist Meraas in ensuring the cruise terminal meets the highest international standards of the cruise industry, while the relevant authorities will be responsible for security, immigration and customs. It highlights Meraas' support for Dubai Tourism Vision 2020, which aims to attract 20 million visitors a year to the emirate, and strengthens the company's contribution to Dubai Plan 2021, the strategic roadmap to establish Dubai among the world's best cities.
According to the Cruise Lines Internationa Association, more than 40 million people worldwide will travel on cruise ships annually by 2030, marking a 40 percent increase from 26 million passengers in 2017. At a local level, the maritime tourism sector is expected to contribute more than AED1.5 billion to Dubai's economy by 2030.