Nautilus Looks to JV to Refinance Seafloor Mining Support Vessel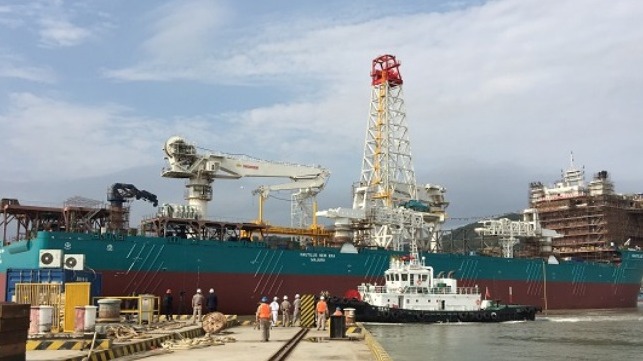 Nautilus Minerals has announced that it is currently negotiating the terms of an agreement for a joint venture (JV) to refinance the acquisition of the production support vessel for the Solwara 1 seafloor mining project that it had previously arranged to be procured through MAC Goliath.
The new JV would own and operate the vessel and charter it to the existing Solwara 1 joint venture between Nautilus Minerals Niugini and the Independent State of Papua New Guinea's nominee, Eda Kopa (Solwara) Limited.
Nautilus has been notified by the owner of the shipyard, Fujian Mawei Shipbuilding, that it had rescinded the shipbuilding contract between the Shipyard and MAC, the contractor engaged by Nautilus to procure the vessel on behalf of Nautilus. However, the shipyard has continued to install components of the company's seafloor production equipment on the vessel, with the latest being the installation of an operating console in mid-November. The Nautilus New Era is designed with accommodation for up to 180 people and will generate approximately 31MW of power. Delivery was previously scheduled for March 31, 2019.
As well as negotiating the JV, Nautilus is in discussions with Deep Sea Mining Finance on its loan facility which is currently due on January 8, 2019.
Nautilus Minerals completed submerged trials of its seafloor production tools, to be deployed from the vessel, in February this year. The company plans to use the tools to cut and extract high grade copper and gold from the seafloor at the Solwara 1 Joint Venture's project site in the Bismarck Sea. Solwara 1 is expected to be the world's first commercial high-grade seafloor copper-gold mine project. The site has indicated resources of one million tons grading 7.2 percent copper, five grams (0.18 ounces) of gold per ton, 23 grams (0.81 ounces) of silver and 0.4 percent zinc. Inferred resources add 1.5 million tons of 8.1 percent copper, 6.4 grams of gold, 34 grams of silver and 0.9 percent zinc.
Each of the machines, a bulk cutter, an auxiliary cutter and a collection machine, weighs around 250 tons. All three will operate at depths of around 1,500 meters (4,900 feet) in temperatures of 2.6 degrees Celsius. The machines are designed to break rock with much greater force than land machines and must operate at low temperatures to avoid overheating.
Nautilus also holds highly prospective exploration acreage in the western Pacific as well as in international waters in the Central Pacific.