Mystery Continues for Abandoned, Grounded Tanker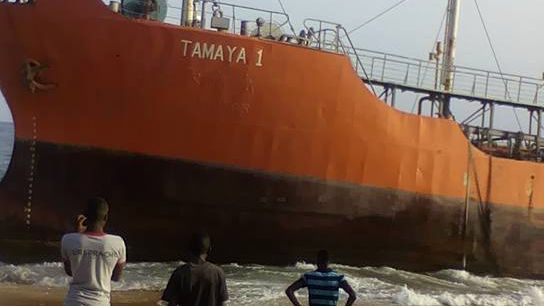 Days after the grounding of a product tanker on Liberian shores, the cause of the incident and the story behind the disappearance of her crew remain a mystery.
The ship was abandoned when discovered by local residents, leading to speculation (but no confirmed reports) regarding the crew's whereabouts.
Farbric Radio reports that fishermen had spotted the vessel near the town of Taililor on Monday, and had not seen either crew or lifeboats aboard; the station said that she may have already been abandoned at the time she went aground.
On Thursday, a task force from Liberia National Police (LNP), the Armed Forces of Liberia (AFL) and the Bureau of Immigration and Naturalization inspected the vessel and gathered information from residents of Fanti Town, Robertsport. But Liberia's Daily Observer reported Friday that authorities did not officially respond to the grounding and secure the scene until late Wednesday evening – raising questions for the local community about the preparedness of security forces. "That it took [so long] before they knew about the ship's presence, is troubling," said one Robertsport resident.
In the time period between the grounding and the arrival of authorities, the vessel may have been looted. Several residents told a Liberian correspondent that they had an interest in looting the abandoned vessel, and reports on May 4 said that the Tamaya had already been vandalized.
The multi-agency investigation into the cause of the grounding continues, said police spokesman Sam Collins.
In an entry updated in May 2016, Equasis lists her beneficial owner as Tamaya Shipping Offshore of Beirut, Lebanon, and her manager as SODATRA (Societe Dakaroise de Transit) of Dakar, Senegal. However, a representative for SODATRA said that although the Equasis entry has not been updated, the firm has documentary proof that it has not been the vessel's agent since 2011.
The Tamaya's record of classification status on the registry dates to 2009, when it was listed as "Withdrawn" for reason of an overdue survey.
Tamaya Shipping Offshore was not immediately available for comment.