Misquoted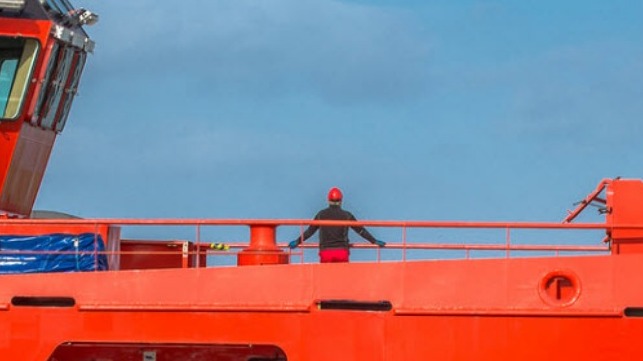 Back in 2017, the UK P&I Club was misquoted on seafarer suicide statistics - a mistake that inflated the suicide rate the club had intended to communicate. The mistake was perpetuated widely through trade press and the general media, and it continues to be perpetuated.
It's time to set the record straight, but with what? MarEx has endeavored to find out.
What was said
Around 20 trade and general media articles mentioned seafarer suicide last year as a result of alleged Club communications. These are some of the things said:
"...suicide rates among seafarers have tripled since 2014. In 2015 suicide was cited as the cause of death on 15.3% of identified mental health cases having risen from 4.4% in 2014."
"Suicide rates among seafarers experiencing mental health problems have more than tripled since 2014."
"The UK P&I Club is putting the spotlight on seafarer mental health with suicide the cause of 15% of deaths at sea."
"The Club noted that a career seafaring is the second most at risk of suicide, with 15 per cent of deaths at sea caused as result."
"Last week suicide was highlighted as the top cause of deaths among seafarers accounting for 15% of all fatalities according the UK P&I Club."
Coverage has continued. In October this year, one media outlet published an editorial saying this: "The UK P&I Club revealed that suicides comprise 15% of fatalities at sea, making it the most prevalent cause of onboard deaths."
What the Club says now
A spokesman for the Club confirmed to MarEx that it had been misquoted in some media articles. Preferring to avoid percentages, the spokesman clarified the 2017 message it tried to convey this way: "Suicide rates among seafarers suffering from poor mental health have more than tripled since 2014 according to figures from the UK P&I Club's internal claims system."
The spokesman also confirmed that it has "no current evidence to show an increase in suicide rates" since 2015.
What data is available
There is no single source of statistics on seafarer suicide rate - not at the World Health Organization, not at the IMO, not at the ILO. MarEx contacted a number of P&I Clubs asking for their data without success. However, Yves Vandenborn, Director of Loss Prevention at Charles Taylor Mutual Management (Asia), managers of The Standard Club Asia Ltd, said that "our statistics show an increase in mental health related claims since 2015. This includes suicides, attempted suicides, but also depression, anxiety etc.
"The reason behind the increase will be a combination of various factors: increased focus on the topic which means that seafarers will come forward with these problems more as compared to previously; improved record keeping where statistics related to this topic are better categorised; and an actual increase in mental health cases."
The Liberian flag provided this: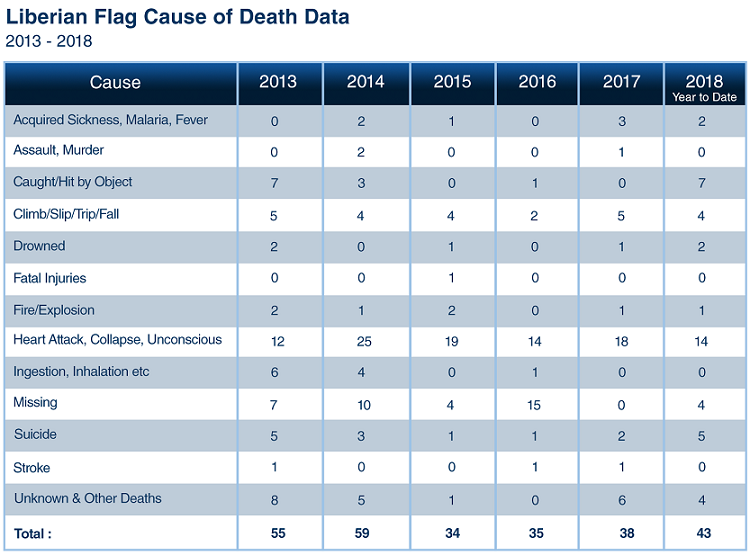 Some primary research has been undertaken and published in professional journals. A study published in 2013 titled: "High-risk occupations for suicide" compared British data from several years in the 1980s with that from 2001-2005. Suicide rates were report using worker-years - a measure that facilitates comparisons between studies. Note: a rate of 81 per 100,000 is not 81 percent, but 0.081 percent, a figure 1,000 times smaller.
The study states: "During the more recent time period 2001–2005, coal miners had the highest suicide rate (81 per 100,000 worker-years), followed by other manual occupations: merchant seafarers (68), laborers in building trades (59) and window cleaners (46)." Merchant seafarers ranked second highest in the earlier time period too, but the data did not indicate a statistically significant difference between the two time periods.
In a study published in 2010 titled: "Suicides among seafarers in UK merchant shipping, 1919-2015" the rate fell from 40-50 per 100,000 in the 1920s to less than 10 per 100,000 in recent years, with an interim peak during the 1960s.
Complications with the data
Collating and comparing data from different sources has some obvious complications. For example, are disappearances or open verdicts included? This could have a significant impact on rates. In "Fatal accidents and injuries among merchant seafarers worldwide" the authors note that five fatalities from external causes out of 66 were suicide - a rate of 1.5 per 100,000. Another 11 of the 66 were the result of undetermined intent.
Another study "Surveillance of work related mortality among seafarers employed on board Isle of Man registered merchant ships from 1986 to 2005" reported 65 deaths of which two were suicide and nine were unexplained. The suicide rate was estimated at 1.3 per 100,000.
Another complication with the data is whether or not suicides that occur at berth or during time on shore are included or not. A study published in 1996 titled: "Surveillance of deaths on board Danish merchant ships, 1986-93: implications for prevention" identified 147 deaths of which 12 were suicide - eight occurred at sea, four when the vessel was at berth.
The general population
Do the rates differ from other occupations and the general population? The World Health Organization stated in August this year that close to 800,000 people die due to suicide every year. Suicide is the second leading cause of death among 15 to 29-year-olds, and over 79 percent of global suicides occurred in low- and middle-income countries in 2016.
In its 2014 publication "Preventing suicide" the World Health Organization notes problems with data collection: "An estimated 804,000 suicide deaths occurred worldwide in 2012, representing an annual global age-standardized suicide rate of 11.4 per 100,000 population (15.0 for males and 8.0 for females). However, since suicide is a sensitive issue, and even illegal in some countries, it is very likely that it is under-reported. In countries with good vital registration data, suicide may often be misclassified as an accident or another cause of death. Registering a suicide is a complicated procedure involving several different authorities, often including law enforcement. And in countries without reliable registration of deaths, suicides simply die uncounted."
The organization maintains an interactive map showing variation among different countries - similar to this one showing global data for males: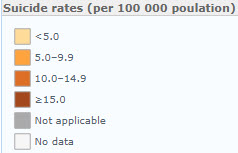 Causes of suicide
The World Health Organization publication goes on to say: "Frequently, several risk factors act cumulatively to increase a person's vulnerability to suicidal behavior. Risk factors associated with the health system and society at large include difficulties in accessing health care and in receiving the care needed, easy availability of the means for suicide, inappropriate media reporting that sensationalizes suicide and increases the risk of "copycat" suicides, and stigma against people who seek help for suicidal behaviors, or for mental health and substance abuse problems.
"Risks linked to the community and relationships include war and disaster, stresses of acculturation (such as among indigenous peoples or displaced persons), discrimination, a sense of isolation, abuse, violence and conflictual relationships.
"And risk factors at the individual level include previous suicide attempts, mental disorders, harmful use of alcohol, financial loss, chronic pain and a family history of suicide."
The study published in 2010 titled: "Suicides among seafarers in UK merchant shipping, 1919-2015" examined sources such as autopsy reports, death certificates, reports from marine inquiries, log books and written statements from the master and crew. It states that the most frequently cited factors were various work-related problems (30 percent of cases with available documents). These included conflicts among the crew, disciplinary problems, work pressure and cancellation of shore leave.
Other cited factors were various mental health conditions (25 percent), depression (18 percent) and marital or girlfriend problems (13 percent). Although alcohol consumption was under-reported in inquiry documents, 17 percent were reported as drinking heavily before the suicide.
An ISWAN document published this year: "Seafarer mental health: A rising tide" cites a number of causes that can push seafarers towards the higher-risk areas for mental health problems. These include social isolation, long voyages, fatigue, separation from family and friends and increased pressure.
Depression
Sailors' Society held a Wellness at Sea conference in London in March where it presented a study into seafarers' mental health. The results highlighted that 26 percent of seafarers show signs of depression – and many won't ask for help. The study of more than 1,000 seafarers was carried out by Sailors' Society and Yale University. The seafarers said the quality and amount of food on board can have a big impact on their mental health, alongside isolation from their families and length of their contracts.
Nearly half (45 percent) of the seafarers who reported symptoms of depression said they had not asked anybody for help. Around one-third said they had turned to family and/or friends, but only 21 percent said they had spoken to a colleague, despite spending months on a ship with them.
Get help
Any person experiencing suicidal thoughts is encouraged to seek help immediately. Sailors' Society provides trauma support to seafarers through its Crisis Response Network. The charity has 52 trained crisis responders, who provide trauma care and counseling services. The service is available 24/7 and full contact details are available at www.sailors-society.org/crisis.
ISWAN (International Seafarers' Wellness and Assistance Network) runs a helpline called SeafarerHelp (www.seafarerhelp.org) that provides emotional support to seafarers worldwide. The team have been trained to respond to seafarers who are contemplating suicide or who may be depressed or lonely. Other helplines for seafarers are NUSI Sahara in India and Hunterlink in Australia.