Michael Sacco, Head of the SIU, Retires After 35 Years of Service
ITF Seafarers Chair and SIU Treasurer David Heindel appointed as his successor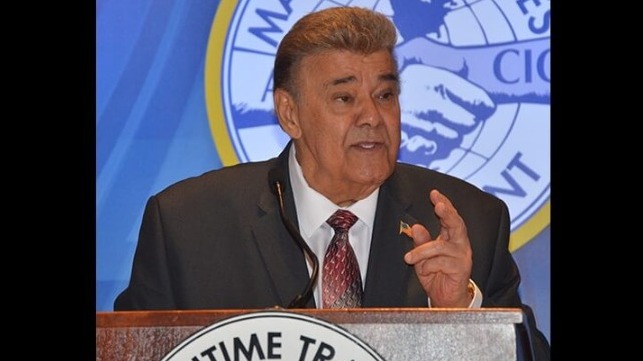 Michael Sacco, longtime leader of the Seafarers International Union (SIU), has announced his retirement after nearly 35 years of service to the organization.
Sacco joined the SIU in 1958 and worked as a seafarer on U.S.-flag ships before transitioning to a role in the union, serving as a patrolman, port agent, and headquarters representative. He became the vice president of the Seafarers Harry Lundeberg School of Seamanship from 1968 to 1979. As a protege of the late SIU President Paul Hall, he served as the vice president of the Great Lakes and Inland Waters division of the SIU from 1980-88.
Sacco became the president of the SIU's Atlantic, Gulf, Lakes and Inland Waters division starting in June 1988, a post he held continuously for 35 years. He was later elected as a vice president of the AFL-CIO, the federation of 60 unions representing over 14 million workers in the United States. Sacco will be retiring as the senior vice president of the AFL-CIO Executive Council, and was its longest-serving member.
"Mike led his union with integrity and a fighting spirit that he learned as a rank-and-file member. It's been an honor to have him serve on the AFL-CIO Executive Council for more than three decades, always quick to offer sage advice and guidance about the future of our movement," said AFL-CIO President Liz Shuler in a statement.
Sacco, 86, formalized his retirement plans on Monday at a meeting of the SIU Executive Board. During the same meeting, the board unanimously approved the selection of SIU Secretary-Treasurer David Heindel as the SIU's next president, effective Tuesday.
Heindel has extensive experience in defending seafarers' rights at home and abroad. He started his career at Piney Point in 1973 and worked his way up to become secretary-treasurer of the SIU in 1997. He was elected vice chairman of the International Transport Workers' Federation's (ITF's) Seafarers' Section in 2002, and he has worked with DHS, IMO and ILO on international standards, including the ISPS Code. He was elected as chair of the ITF Seafarers' Section in 2010, and he has retained that role for more than 12 years.
"Dave will do a great job and he has my complete confidence," Sacco stated. "He has proven himself throughout his lifetime of service to the SIU. We are also fortunate to have outstanding leadership throughout our executive board, and I know this will be a seamless transition."