Maersk Trials Biofuel Blend in Triple-E Container Ship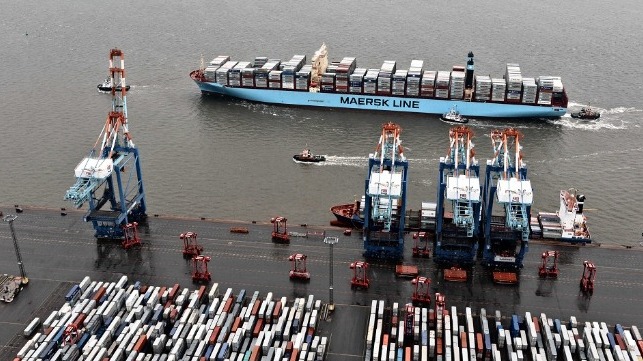 Maersk Line is partnering with the Dutch Sustainable Growth Coalition to conduct the largest ever pilot of biofuel in a maritime application. Maersk sees this as part of its strategy to act on climate change and work towards its internal goal of net zero GHG emissions by 2050.
During the pilot, one of Maersk's Triple-E class boxships will use up to 20 percent second-generation biofuels on a 25,000 nautical mile journey from Rotterdam to Shanghai and back. It will be the world's first test at this scale, and should save 1500 tonnes of CO2 and 20 tonnes of sulfur emissions.
The Dutch Sustainable Growth Coalition (DSGC) of FrieslandCampina, Heineken, Philips, DSM, Shell and Unilever are joining Maersk to support this pilot project. Shell will provide the fuel, which is based on waste vegetable oil (WVO), also known as used cooking oil or yellow grease.
"This pilot testing biofuel on a cross ocean shipping lane, marks an important step. However, many more innovations are urgently needed. These can only be successfully developed, tested and implemented in industry collaborations like this," said Jan Peter Balkenende, chair of the DSGC.
Maersk competitor CMA CGM is conducting a similar trial using a non-petroleum, HFO-like bunker fuel from Dutch supplier GoodFuels. For both companies, scaling up usage will require sourcing an adequate supply of feedstock.
WVO-based biofuels are an established substitute for diesel in automotive applications, and soaring European demand has created a seller's market. According to Reuters, waste collectors as far away as Thailand are seeing pricing of up to $600-700 per tonne for unrefined restaraunt fryer grease. The high demand for this costly waste product comes from consumers' desire to avoid impacts on human food supplies or land use patterns - two issues inherent in making edible soybean or palm oil into fuel.