Maersk Deploys Plastic Cleanup Project in Pacific Garbage Patch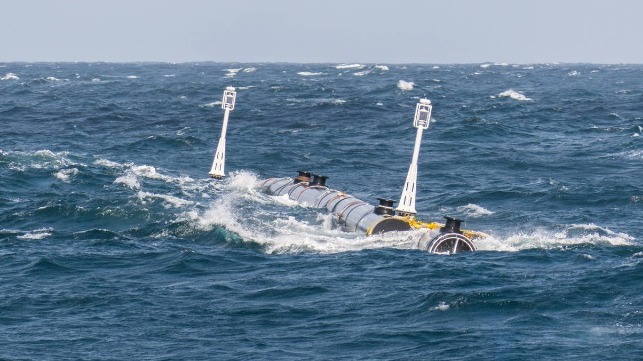 Offshore vessel operator Maersk Supply Service has agreed to deploy the AHTS Maersk Launcher in support of the deployment of The Ocean Cleanup trash removal system, which aims to remove plastic debris from the waters of the North Pacific. It is the first large-scale initiative of its kind.
The effort will target the well-publicized "garbage patch" in the Pacific, which contains mismanaged plastic waste generated on shore. According to researchers at the Helmholtz Centre for Environmental Research, ten river systems in Asia and Africa account for as much as 95 percent of ocean plastic pollution worldwide, and six of ten flow into the seas of the Western Pacific region. The Ocean Cleanup estimates that about 85 percent of the total comes from Asia.
The Ocean Cleanup's system relies upon long floating screens to collect plastic debris for recycling. The group has a support center at Alameda, across the bay from the Port of San Francisco, and the site recently conducted offshore tow testing for a 120-meter segment of the barrier. The complete unit will be 600 meters long, and under optimal conditions, the group believes that it will accumulate one ton of plastic per week. Ocean Cleanup asserts that if deployed worldwide, and combined with onshore waste reduction, the system could remove 90 percent of the world's ocean plastic pollution. Plastic waste enters the sea at an estimated rate of 90,000 to 270,000 tons per week, according to an estimate published in Science in 2015.
Maersk Launcher will deploy the initial system at a position about 250 nm off the coast of San Francisco for two weeks of initial testing, then relocate it to the Great Pacific Garbage Patch, which is about 1,000 nm further offshore. The total campaign duration is about 60 days.
The cost of the charter, including vessel services, equipment and transportation, comes to roughly $2 million. The expense will be borne jointly by subsea mining company DeepGreen and by Maersk Supply's parent company, AP Moller-Maersk.
"Part of Maersk Supply Service's strategy is to diversify its business and use its technical capabilities in new areas outside traditional oil and gas. With recently announced other new partnerships in innovative fields with DeepGreen and with Vestas Wind Systems, this collaboration with The Ocean Cleanup is a confirmation we are taking important steps in this direction," said Maersk Supply's CEO, Steen S. Karstensen.
Maersk Group is seeking structural solutions for Maersk Supply Service, which it has classified as a "discontinued" division held for sale. Maersk is exiting its petroleum-related business lines, and it recently transferred Maersk Tankers to a related entity and sold Maersk Oil to Total. It has signaled its intention to find a similar option for Maersk Supply, though the timeline is uncertain due to market conditions. Maersk Supply lost $9 million in the first half, an improvement over a loss of $42 million in the same period last year.