Listing Ro/Ro Modern Express Enters Port of Bilbao
The listing ro/ro Modern Express has been successfully towed into harbor at Bilbao, Spain, following days adrift without crew in the Bay of Biscay. A team from SMIT Salvage boarded her Monday and ran a tow line, saving her from grounding on the French coastline.
She was brought to Bilbao by the towing vessel Centaurus, escorted by the offshore supply vessel / tug Ria de Vigo and the spill response vessel Argonaute. Weather during the transit was much calmer than conditions over the weekend, with wind in the range of eight knots and swells to seven feet.
The French Navy frigate Primauguet and the rescue tug Abeille Bourbon left the Express' convoy Tuesday and made to return to their home port of Brest.
The Express was ten miles off Bilbao on Tuesday night, but Spanish authorities and salvors chose to wait for daylight and improved visibility to bring her in. At the harbor entrance, additional towing vessels joined her for docking, and a team of eight salvors boarded her to handle lines. Video of tugs bringing her into the Port of Bilbao is available here.
Her list was reportedly in the range of 50 degrees when she reached Bilbao.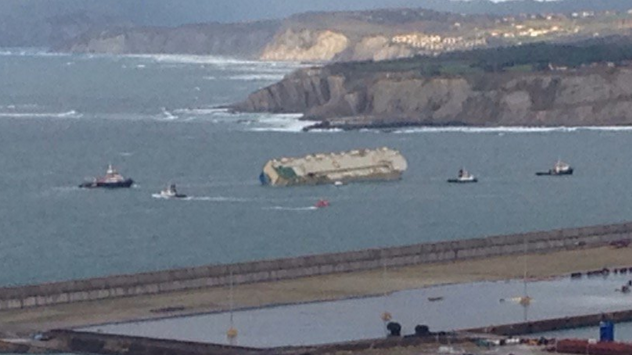 Image credit Audrey Alos / Twitter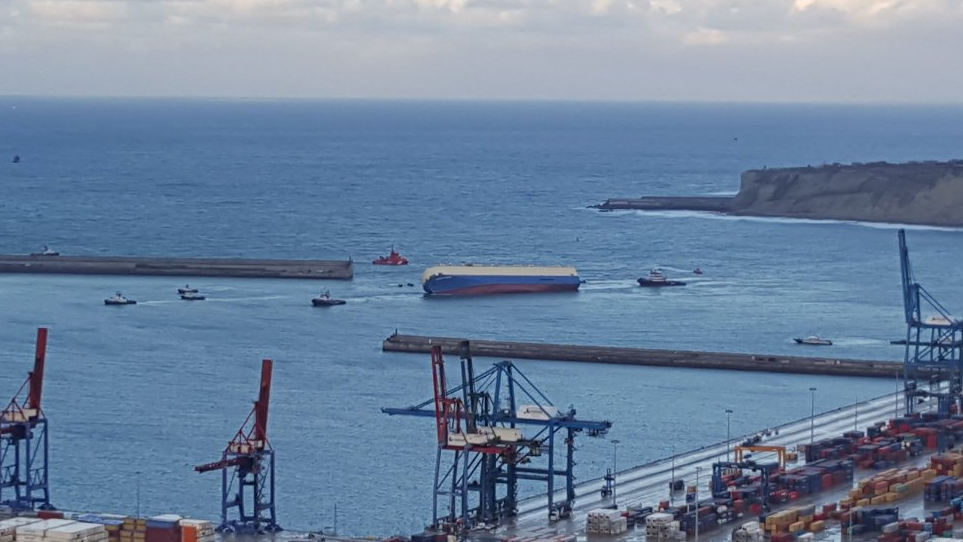 Image credit Naxto Rodriguez / Twitter
"[She] is in the port and . . . being docked at the shelter," said a spokesman for the Port of Bilbao on Wednesday. As of Wednesday afternoon, the towing vessel Centaurus was moored at a pier near Santurtzi, Bilbao; shoreside receivers have not picked up the Modern Express' AIS transmitter signal for some time.
Following docking, SMIT salvors intend to inspect her and assess her condition, including cargo, and determine whether she must be unloaded before righting. Dismantling is not among the options being considered at moment, French media say. The cause of the incident has not been determined.
The listing Express issued a distress signal early last week at a position some 130 nm off Cape Ortegal, Galicia, in the British zone of SAR responsibility for the Bay of Biscay. The initial response was carried out by Spanish authorities, who safely evacuated her 22-man crew by helicopter.
The Panama-flagged, 10,000 dwt vessel was under way from Gabon to Le Havre with cargo of "3,600 tons of wood in bundles and a dozen pieces of heavy machinery" at the time that she began to list, French authorities said. She is owned by Cido Shipping and operated by European Roro Lines, a specialist in ro/ro cargo to West Africa from Northern Europe.
European media suggest that Bilbao may not have had the legal option to refuse entry to the Express. Under European Commission rules, a port of refuge must accept a vessel in distress under most circumstances: "unless it is considered dangerous, [the ship] cannot be rejected without inspection. The State receiving a request for a place of refuge may not refuse for purely commercial . . . financial or insurance [reasons]."
Regulations regarding ports of refuge have been strengthened in the E.U. several times since the well-known incidents of the tanker Erika in 1999 and the tanker Prestige in 2002. In the latter case, the storm-damaged Prestige was refused entry to European ports and broke up at sea, spilling 20 million gallons of oil in the largest environmental disaster in Spanish history. A Spanish court recently found the captain of the Prestige responsible for the casualty, a controversial move resulting in outcry from multiple maritime organizations.