Largest Cocaine Bust of Decade on Miami River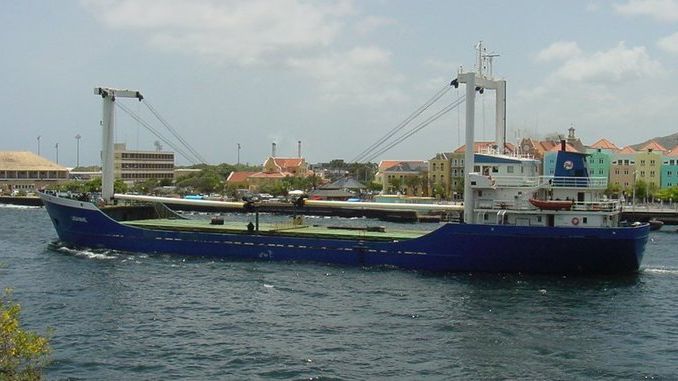 Officers with the U.S. Customs and Border Protection boarded and searched a general cargo ship at dock in the Miami River on Wednesday – and found 2,000 pounds of cocaine carefully hidden in secret compartments on her weather decks.
Agents reportedly located the hundreds of bricks of drugs by drilling through the deck plates and into the compartments. "The metal compartments were flush. They were welded back over. They sand them down, they repaint them and then it makes it very hard to see," said customs port director Tony De Francisci, speaking to the local CBS TV affiliate. "We drilled them out and found a white powdery substance."

The vessel, the 1983-built general cargo ship Lisanne, had arrived from Haiti with empty holds (this is a common run, local media said, arriving empty and returning full). A USCG port state control inspection in March found deficiencies including missing crew STCW certificates; she has been detained in the U.S. three times since 2012 for issues related to firefighting and SOLAS equipment, manning, load lines and ISM code requirements. Equasis lists her owner and operator as a Miami-based company.
Bill Olejasz, assistant port director for Customs and Border Protection, told the Miami Herald that vessels arriving from Haiti are routinely searched, but that this was an unusually large haul – the largest cocaine bust in more than a decade on the Miami River.
The crew has been permitted to remain in the U.S. pending an investigation. No arrests have been made so far and officials expect the men will be deported. As for the Lisanne, her eventual fate has not yet been announced; but local officials are expected to sink a vessel involved in a similar smuggling incident, the Ana Cecilia, to add to Florida's many artificial reefs.
The cocaine would have a street value in Miami of between $20,000 and $30,000 per kilo, or as much as $27 million in total.
Cartels use multiple means to smuggle cocaine in the U.S. – air shipments in commercial cargo, secret compartments in vehicles and vessels, and an increasing number of large consignments in go-fast boats or in "narco-submarines," low-profile craft of questionable construction and stability. The U.S. Coast Guard found 16,000 pounds of cocaine aboard a narco-submarine south of Mexico last summer, the agency's largest ever drug bust of its kind – and it says that it has intercepted over two dozen of these craft in the Pacific over the past decade.