Korea Tops China in Newbuilding Output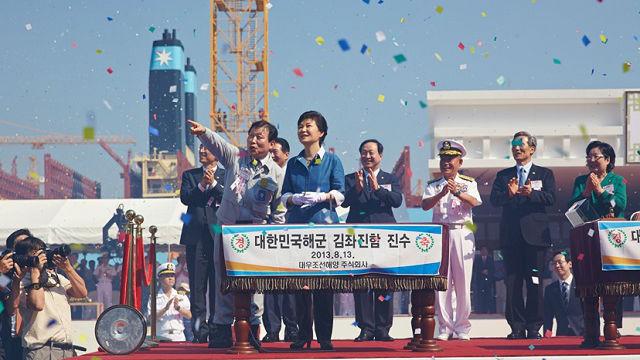 Korean shipyards regained the top spot in terms of global compensated gross tonnage (CGT) delivered in 2014, delivering a reported 12.1m compensated gross tonnage (CGT), according to Clarksons Shipping Intelligence Network.
Between 2002 and 2009, Korean yards accounted for 37 percent of CGT reported delivered with Chinese yards outputting 19 percent of tonnage in terms of CGT. However, they subsequently lost their top spot to Chinese yards in 2010.
Last year, strong deliveries in the LNG carrier and 8,000+ TEU (VLCS) boxship sectors supported Korea's shipyard output. Korean yards accounted for 70 percent of the 5.7 million CGT delivered in the VLCS sector and almost 90 percent of the 2.8 million CGT delivered in the LNG sector. This firm delivery activity saw Korean yards retake the lead in terms of CGT delivered.
Following a significant ramp up in Chinese delivery volumes over the delivery boom, predominantly in the bulker sector, yards in China accounted for the largest share of deliveries between 2010 and 2013. Their share of global deliveries, in terms of CGT, peaked in 2012 and they accounted for 43 percent of global deliveries that year. However, with lower output levels in recent years, Chinese yards' share of deliveries has dropped, falling back to 33 percent in 2014. This was driven by a 27 percent drop y-o-y in Chinese bulker deliveries, in terms of CGT, in 2014.
Elsewhere, Japanese yards' share of global deliveries remained steady in 2014 (19 percent of CGT) with 6.6 million CGT reported delivered. Yards in the Philippines delivered their second largest volume of tonnage on record in 2014 in terms of CGT (1.0 million CGT).
Meanwhile, 2014 also saw a European shipbuilding nation in the top 5 delivery list for the first time since 2010, with German yards delivering a reported 0.5 million CGT (the cruise ship sector accounted for over 65 percent of this).
Deliveries are projected to increase 9 percent this year to 38.0 million CGT after four years of decline. Strong boxship and LNG deliveries from Korean yards in 2015 look set to support their delivery share this year and a total of 13.1 million CGT is projected for delivery by Korean builders.
Meanwhile, Chinese yards are projected to deliver a similar 12.8 million CGT in 2015. Looking to 2016, a total of 36.3 million CGT is expected for delivery and Chinese and Korean yards' delivery shares are projected to stay closely aligned again at around 35 percent.
Strong deliveries in a number of more specialized vessel sectors helped Korean yards overtake their Chinese counterparts as the top delivery nation in terms of CGT last year. Looking forward, delivery activity is projected to rise for the first time since 2009 this year and, in terms of CGT, Korea and China's delivery shares look set to remain closely aligned.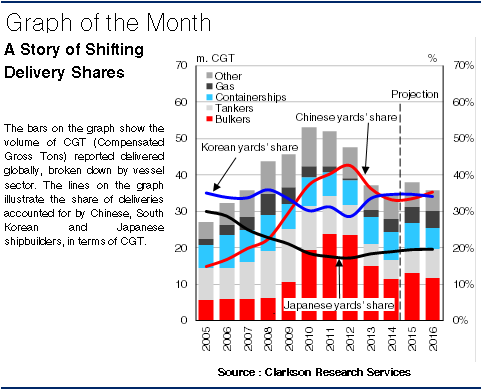 Source: Clarksons