Kirby Inland Grows Again with Acquisition of Cenac Marine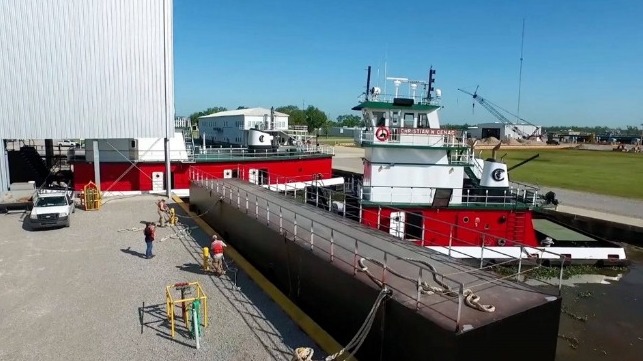 Kirby Corporation has agreed to acquire the fleet of Cenac Marine Services, consolidating Kirby's position as the largest tank barge operator in the United States. The $250 million purchase will bring Kirby's Inland division to a total size of more than than 300 towboats and 1,000 barges, not counting the tugs and ATBs operated by the firm's offshore division.
Cenac Marine is a family-owned company with more than 60 inland tank barges, 34 inland towboats and two offshore tugs. The firm moves petrochemicals, crude and refined products on the lower Mississippi and the Gulf Intracoastal Waterway, the same market served by Kirby Inland. Cenac will keep possession of Main Iron Works, a Houma-based shipbuilder that it acquired in 2015, and will continue to build towboats.
Cenac's inland fleet is the youngest in the industry, with an average barge age of four years and an average towboat age of just six years. "The addition of these vessels to Kirby's fleet will not only further reduce our average age profile, but will also further enable us to avoid significant capital outlays for new vessels in the future," said David Grzebinski, Kirby's president and CEO.
Last year, Kirby bought another large competitor, Higman Marine, acquiring 160 tank barges and 75 towboats. Higman's fleet also had a relatively young average age - seven years for the barges and eight for the towing vessels - and at the time of the purchase, Grzebinski said that it would allow Kirby to avoid expenditures on newbuildings. In recent years, Kirby has also purchased Penn Maritime, K-Sea Transportation and Seacor's inland tank barge division, among other investments.
The growth of Kirby's inland fleet coincides with improving market conditions. Texas' Permian Basin oil fields are booming, and transportation demand related to their output is growing. The expansion of the petchem industry on the Gulf Coast is also creating new demand for marine services. Kirby says that its utilization rate for inland tank barges is above 90 percent, with an operating margin in the mid-teens.