Report: Kenya Risks Losing Port of Mombasa to China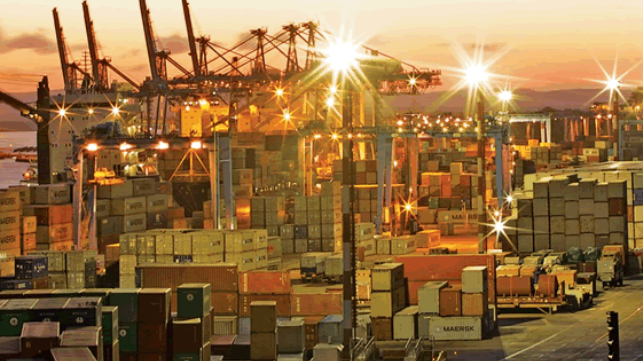 Kenya runs the risk of losing control of the Port of Mombasa if it should default on loans from state financial institution China Exim Bank, according to a new report from Kenya's auditor general. The terms of a $2.3 billion loan for Kenya Railways Corporation (KRC) specify that the port's assets are collateral, and they are not protected by Kenya's sovereign immunity due to a waiver in the contract.
KRC accepted the multi-billion-dollar loan in order to build the Mombasa-Nairobi standard gauge railway (SGR), with construction services provided by China Roads and Bridges Corporation (CRBC), a division of state-owned conglomerate China Communications Construction Company (CCCC).
"The payment arrangement agreement substantively means that the Authority's revenue would be used to pay the Government of Kenya's debt to China Exim bank if the minimum volumes required for [rail] consignment are not met," auditor F.T. Kimani wrote. "The China Exim bank would become a principle over KPA if KRC defaults in its obligations."
In addition, any dispute with China Exim Bank would be handled through an arbitration process in China, not in Kenyan courts. The auditor general expressed concern that the port authority had not disclosed these arrangements in its financial statements.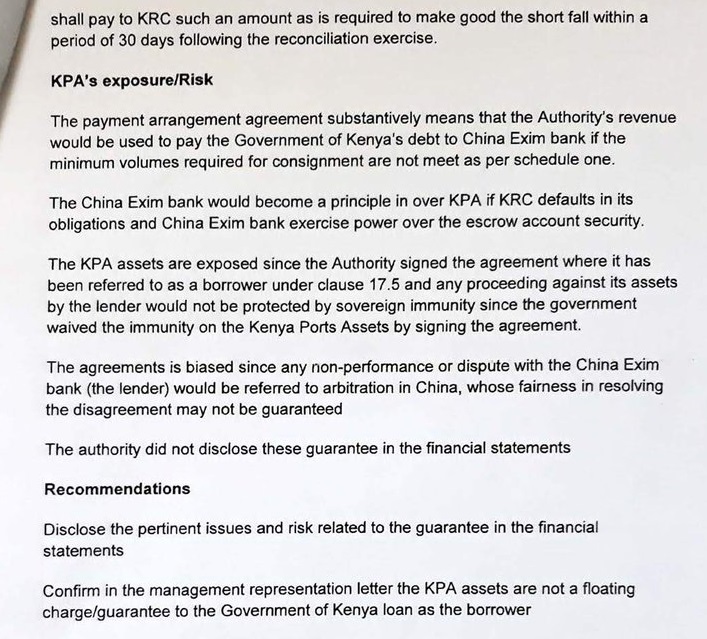 John Githongo / Twitter
In a social media post, the Auditor General's office emphasized that it had not released the report, which was leaked to the public via unofficial channels. A source within the office told Kenyan outlet Daily Nation that "the issues raised are not conclusive."
In an interview with Kenyan media, KPA managing director Daniel Manduku expressed confidence that the contract clauses would not cause difficulties. "There is no risk of losing the port. In fact, we will pay this loan ahead of time," he said. "We can even take another loan and pay it on time."
The SGR, also known as the Madaraka Express, is a diesel-powered passenger and freight rail service connecting Nairobi and Mombasa. Its construction was plagued by cost overruns, and outside observers have questioned its economic viability. 80 percent of the project was financed by China.
Last month, Kenya's Ethics and Anti-Corruption Commission (EACC) arrested seven China Roads and Bridges Corporation executives on allegations of bribery. The company officials - four Kenyans and three Chinese nationals - allegedly tried to influence investigators who are conducting a corruption probe of the SGR rail project. Separately, two Kenyan officials were charged in August for allegedly corrupt acts in connection with the land acquisition for the rail line.
Kenyan concerns about the transfer of a strategic seaport to China have precedent elsewhere. In December 2017, Sri Lanka handed control of the newly-built port of Hambantota to a Chinese operator in order to satisfy part of its significant debt to Chinese lenders.