Keel Laid for Lindblad's First Polar Newbuilding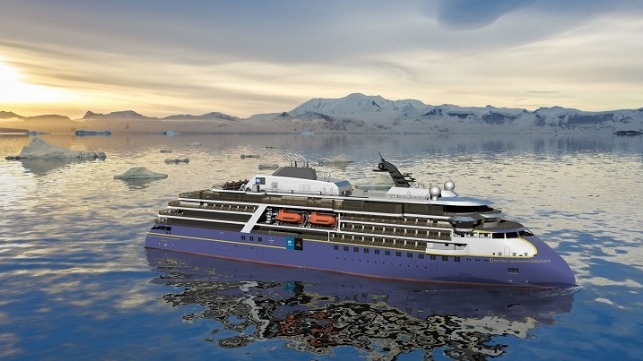 Lindblad Expeditions celebrated the keel laying of its first polar newbuild on Saturday.
The Ulstein-design vessel, under construction at the CRIST shipyard in Gdynia, Poland, will join the Lindblad-National Geographic fleet and has been named National Geographic Endurance.
"She is named in honor of Ernest Shackleton, Lindblad Expeditions' most revered explorer," says Sven Lindblad, President and CEO of Lindblad Expeditions. "A Polar Class 5 rating gives us the ability to operate the ship freely at any time of year in polar environments vastly expanding our polar range. This means we can explore deeper into the pack ice, or further north to the unexplored reaches of the arctic. For instance, northern Ellesmere Island, where only a relative handful of people have ever been. Or some of the completely off-the-beaten-path arctic islands that are remote, pristine and teeming with wildlife."
The 126-guest vessel will have Ulstein's signature X-BOW to provide fuel efficiency while significantly improving guest comfort in rough seas; zero-speed stabilizers will also be fitted. The ship's expanded fuel and water tanks provide for extended operations in remote areas.
75 percent of the cabins will have balconies, and there will be multiple observation decks inside and outside as well as "observation wings." Off-ship exploration will be expedited by a Zodiac loading system. The ship's complement of expedition tools for exploration will include kayaks, cross-country skis, a remotely operated vehicle, hydrophones, a video microscope, underwater video cameras and a helicopter landing platform.
The National Geographic Endurance is scheduled for delivery in the first quarter of 2020, with an option for two additional ships to be delivered in subsequent years. The launch of the ship will mark the 50th anniversary year of the first-ever purpose-built expedition ship, Lindblad Explorer.