Japan Coast Guard Vessel Taking on Water After Grounding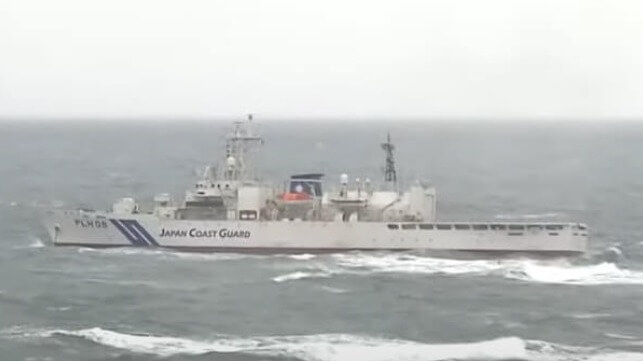 A Japan Coast Guard vessel is reportedly taking on water and leaking oil after grounding in rough weather while on a routine patrol on January 18. The vessel is stranded and awaiting a salvage crew but in no danger of sinking.
The 3,100 gross ton Echigo, built by Mitsui Engineering & Shipbuilding and commissioned in 1990, was operating in central Japan on Wednesday morning. Strong winds of 25 mph were blowing with heavy surf when the vessel approached a lighthouse near Kashiwazaki along the Sea of Japan.
During a briefing, officials said the 345-foot vessel was approaching a lighthouse to check that its lighting system was working properly. Crew members in interviews after the accident suggested that the vessel was blown out of position by the strong winds and rough seas.
The Echigo ran aground about two-thirds of a mile northwest of the lighthouse. Reports indicate that seawater was entering the hull after the grounding and that the vessel was unable to navigate. An oil slick was also seen leaking from the hull. None of the 43 crew aboard was injured and they are believed not to be in any immediate danger.
Japan Coast Guard Commandant Shohei Ishii offered an apology, saying, "It's regrettable that a patrol ship caused an accident even though it was supposed to ensure safety in the sea."
During the briefing, they said they suspect human error was to blame for the grounding. A salvage team has been called in with submersibles to inspect the ship and develop a plan of action.
The incident was especially notable because last week a vessel from Japan's Maritime Self-Defense Force also grounded. The JS Inazuma, hit a rock while on sea trials off the coast of Japan disabling the ship and also causing an oil spill. The destroyer was reported to be operating at a speed of approximately 31 knots in an area known to have fast currents and relatively shallow waters.