IUCN: 8,500 Sunken and Abandoned Vessels Pose Imminent Risk of Spills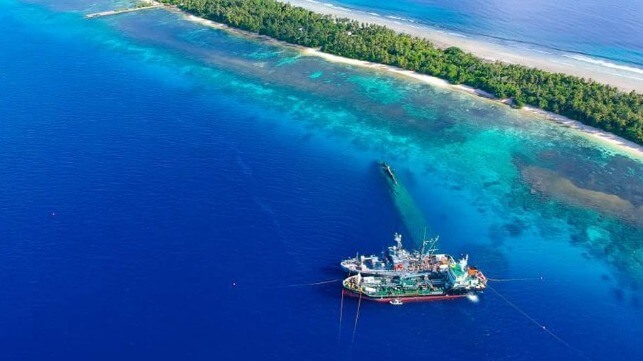 IUCN is warning that marine pollution from sunken and abandoned vessels in the ocean could peak within this decade. Out of an estimated 3 million sunken and abandoned vessels in the ocean, IUCN (International Union for Conservation of Nature) classifies over 8500 of them as potentially polluting wrecks.
The majority of these wrecks date back to World War I and II and contain harmful chemical pollutants, unexploded munitions and an estimated 6 billion gallons of heavy fuel oil. This is 545 times more oil than the Exxon Valdez leak in 1989 and 30 times that of the Deepwater Horizon Spill in 2010.
As shipping develops, marine pollution from sunken vessels is increasingly becoming a global and cross-border issue, potentially affecting people, the environment and economies around the world. Unfortunately, there is lack of data and international cooperation on how to manage pollution from wrecks. This means many governments cannot proactively act to prevent leaks.
In addition, the financial cost of responding to pollution from wrecks is prohibitively expensive, especially for developing nations. The clean-up costs average $2,300 to $17,000 per ton. It is also unclear who is responsible for this cost. Many of the countries most affected were not participants in WWI and WWII, and the ships sunk in war remain owned by the country they sailed for under the principle of sovereign immunity.
For example, the USS Mississinewa sank in 1944 in the waters of the Federated States of Micronesia. However, following a storm in 2001, the US Navy had to remove 1.8 million gallons of oil from the vessel. This cost around $6 million, which is a fraction of what would have cost had the oil leaked.
Indeed, given the large number of shipwrecks worldwide, IUCN estimates leaks from sunken vessels are expected to reach their highest levels within ten years, given the effects of more than 75 years of corrosion. Additionally, severe weather events resulting from climate change are likely to speed up the process of wrecks breaking apart.
To prevent this imminent marine pollution, a new international standard is needed to determine best practice and classify sunken vessels according to potential environmental, social and economic impacts. National governments should also incorporate wrecks in their marine spatial and contingency planning.
IMO is also urged to help facilitate collaboration among states, through existing frameworks. Additional provisions for managing pollution from wrecks in international waters could be introduced through the UN High Seas Treaty (BBNJ).