Italian Prosecutor Detains Migrant Rescue Vessel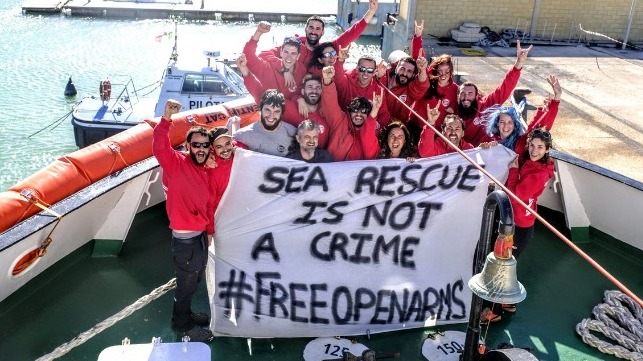 A prosecutor in Catania, Sicily has detained the migrant rescue vessel Open Arms for suspected complicity in "illegal immigration and criminal association." Police also questioned the Open Arms' captain, Marc Reig, and the on-scene representative of shipowner Proactiva Open Arms.
Catania's public prosecutor alleged that the Spanish-flagged Open Arms "violated the law and international agreements by not handing over the migrants to Libyan authorities" on the high seas. During a rescue operation in international waters last Thursday, a Libyan Coast Guard patrol boat threatened to kill the Open Arms' crew if they did not relinquish possession of more than 200 survivors. The Open Arms refused and headed north in search of an EU port to disembark its passengers, and after a formal request from the Spanish flag state, authorities in Catania allowed her to dock.
In a statement Monday, Libya's maritime authority accused Proactiva Open Arms and other migrant rescue NGOs of violating Libya's maritime borders, which end at the 12 nm line defined by UNCLOS. Proactiva Open Arms asserts that their vessel's interaction with the Libyan Coast Guard occurred 73 nm from the coast.
Using vessels and equipment provided by the the Italian government, Libyan forces typically detain maritime migrants and return them to Libyan detention camps, where (according to the United Nations and rights NGOs) conditions may be less than humane. Reducing migration is a top priority for Italy: last year, over 170,000 maritime migrants arrived in Europe, the majority of them on the Libya-Sicily route.
"Proactiva acted to save migrants' lives and then prevented them from being abused in indefinite detention," asserted Judith Sunderland, associate director for Europe and Central Asia director at Human Rights Watch. "It is perverse to try to characterize as criminal a refusal to hand victims to Libyan coast guard forces knowing they could face possible torture and rape in Libyan detention centers."