Iran Seeks to Deploy Naval Mission to Venezuela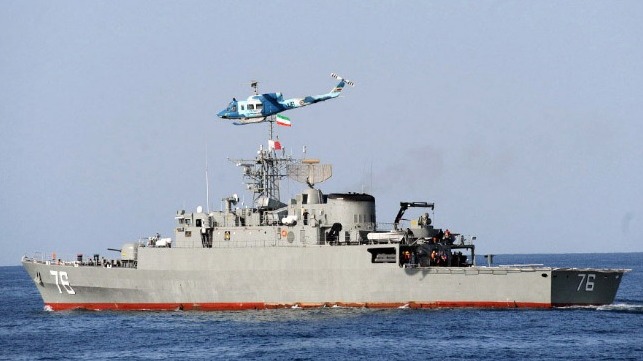 Iran's navy is dispatching its warships further abroad, according to top commander Rear Admiral Hossein Khanzadi. In recent years, the force has conducted anti-piracy operations, security patrols and joint SAR missions in the Gulf of Aden and the Strait of Bab el-Mandeb, but it has rarely dispatched its surface warfare assets on transoceanic voyages.
"Among our plans in the near future is to send two or three vessels with special helicopters to Venezuela in South America on a mission that could last five months," said deputy navy commander Rear-Admiral Touraj Hassani Moqaddam, in a recent interview with Iranian outlet Mehr News.
As isolated regimes with overlapping economic interests, Venezuela and Iran have longstanding ties, including well-established networks for commerce, banking and mutual investment. During the previous sanctions regime, the government of Venezuela's then-President Hugo Chavez was accused of helping Tehran evade sanctions, launder money and foster the spread of extremism - including providing a safe harbor for elements of the designated terrorist organization Hezbollah.
New naval assets
Iran says that it has recently commissioned two diesel-electric Fateh-class mini-submarines, each capable of diving to 200 meters and operating for five weeks without replenishment. One is refurbished, and the second is a newbuild, according to Western defense analysts. It has also added a new corvette-sized warship, the Moudge-class vessel Sahand.
The Iranian Navy claims that the 1,300 tonne Sahand has stealth characteristics, implying a reduced (not eliminated) radar signature. She was launched in 2012 and has been undergoing outfitting for the past six years, and Iran claims that she was finished using only domestically-produced components. Sahand is reportedly capable of operating for five months without resupply.
Iran claims the newly commissioned vessels are evidence of its capability to resist the Trump administration's sanctions measures, which impose steep penalties on foreign firms that do business with Iran's energy, maritime and defense sectors.