Iran Doubles Offshore Natural Gas Production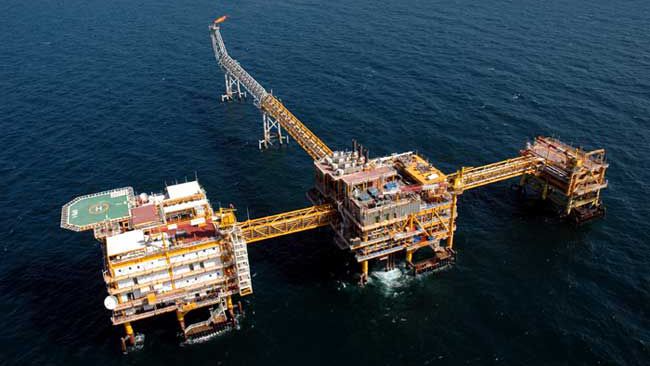 On Sunday, Iranian President Hassan Rouhani inaugurated six new phases of development of Iran's side of the South Pars / North Dome natural gas formation, which is the world's largest at 1,800 trillion cubic feet of reserves. Production from the Iranian side of the field has doubled over the past four years, despite the loss of foreign investment due to Western sanctions, and the National Iranian Oil Company (NIOC) says that the formation has generated a total of nearly $200 billion in revenue.
With South Pars Phases 17 through 21 now online, Iran hopes to catch up with Qatar, which has used the development of its half of the formation to become the world's leading LNG exporter. On Saturday, Rouhani claimed that South Pars produces 570 million cubic meters per day, closely approaching Qatar's 590 million cubic meters. In the near future, Total may contribute an investment of $4.8 billion to help Tehran develop South Pars further.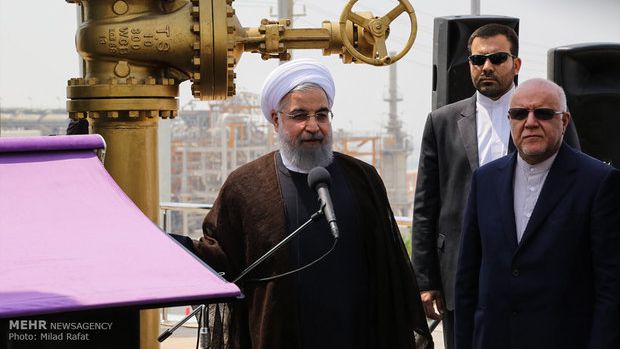 Mehr agency / Islamic Republic of Iran
Qatar calls its half of the formation the North Field, and it suspended drilling in 2005, fearing that further increasing production could hurt the reservoir's long-term prospects. However, with Iran rushing to build new platforms, Qatar has lifted the suspension, and it intends to increase output by 10 percent over the next five years. Whoever takes first place for production from the shared reservoir, Bloomberg suggests that Qatar will keep its position as top exporter: despite Tehran's ambitions, most of the additional production from South Pars will be consumed by Iran's growing domestic market.
Rouhani also celebrated a newly developed oil stratum in South Pars, which began producing 35,000 bpd last month and may eventually develop as much as 140,000 bpd. In addition, the Iranian president officially opened four new petrochemical plants, which will consume two million tonnes of natural gas condensates per year. According to NIOC's news outlet Shana, the projects include Phase II of Kavian Petrochemical Plant (for ethylene), Takht Jamshid Pars Petrochemical Plant (for polystyrene), Entekhab Group Polystyrene Unit and the Morvarid Petrochemical Plant (for monoethylene glycol, or MEG). Rouhani is up for reelection next month, and his oil minister, Bijan Zangeneh, suggested that the petchem projects are key to boosting the regional economy and fighting poverty.