Indonesia Seizes Luxury Yacht on Behalf of FBI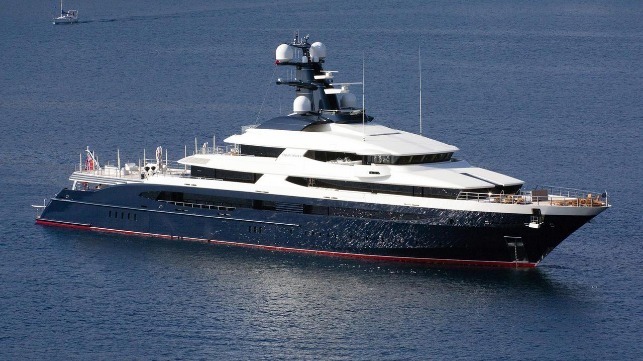 On Wednesday, police in Bali, Indonesia seized the 200-foot luxury yacht Equanimity on a request from U.S. law enforcement officials.
The Indonesian National Police said that the FBI had asked for its help in recovering the yacht, which was allegedly purchased with money stolen from Malaysia's state development fund, 1Malaysia Development Berhad (1MDB). The FBI and the U.S. Department of Justice are conducting an investigation into an alleged embezzlement scheme at the fund.
In a series of civil lawsuits, DOJ charges that Malaysian officials diverted a total of $4.5 billion from the fund for their own enrichment, and the agency is seeking to seize a total of $1.7 billion in assets to recover part of the loss. DOJ is also pursuing the possibility of criminal charges, and five other nations are conducting probes into the fund's activities.
Among other allegations, DOJ asserts that Malaysian businessman Jho Low (or Low Taek Jho) used his position as an unofficial adviser at 1MDB to divert $250 million to buy the Equanimity. 1MDB is not itself a party to the lawsuit, and it denies any dealings with Low.
Low disputes these charges. After the yacht's seizure, his spokesman described the DOJ investigation as "deeply flawed and politically-motivated" and an example of "its pattern of global overreach." Dr. Salleh Said Keruak, Malaysia's minister of communications, said that there was no proof that Low owned the yacht or that it was bought with funds from 1MDB.
"The DoJ has yet to prove any of its allegations in a court of law, despite nearly two years passing since its sensationalised press conference of July 2016," Keruak said in a statement. He described the 1MDB scandal as "fake news" drummed up by his party's political opponents.
Transactions through the U.S. financial system
According to DOJ, the conspirators laundered the funds through a series of complex transactions and shell companies with bank accounts located in the U.S. and abroad. These transactions allegedly served to conceal the origin of the funds, and they passed through U.S. financial institutions to be used for a wide variety of purchases. Among other items, these acquisitions and investments allegedly included one Picasso, one Basquiat, multiple large diamonds and the rights to the Hollywood movie "The Wolf of Wall Street."
"This money financed the lavish lifestyles of the alleged co-conspirators at the expense and detriment of the Malaysian people," said Assistant Attorney General Kenneth A. Blanco in announcing the asset forfeiture suit. "We are unwavering in our commitment to ensure the United States is not a safe haven for corrupt individuals and kleptocrats to hide their ill-gotten wealth or money, and that recovered assets be returned to the victims from which they were taken."