India Takes Tough Line on Trafficking Victims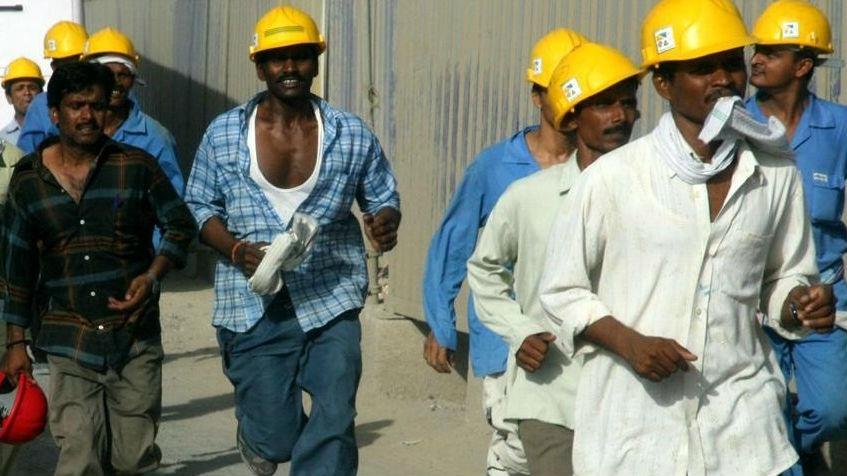 When Ajay Ahir agreed to come to the United States, he had no idea the recruiter promising a high-wage welding job and legal residency in America was lying. He borrowed 500,000 rupees ($7,633) to pay the recruiter's fees, told his wife to wait for him in India, and set off to make his fortune.
Almost nine years later, he has not returned.
When he arrived in New Orleans in January 2007, he was paid only half the $15 an hour he had been promised to work in shipyards devastated by Hurricane Katrina. And instead of a green card, his employer, Eagle Staffing of Louisiana LLC, got him a 10-month guest worker visa for blue-collar laborers filling jobs that no American citizens want.
After that visa expired and Eagle went out of business, the U.S. government recognized Ahir as a victim of human trafficking in July 2013, granting him a rare "T visa" that allows victims of forced labor to return home, collect family and re-settle in the United States.
But he still can't get home. His problem now is the Indian government.
Ahir's predicament illustrates how a U.S. visa program for trafficking victims has broken down in the aftermath of a diplomatic firestorm set off by the 2013 arrest of an Indian diplomat, Devyani Khobragade, in New York that plunged the two countries into their fiercest dispute in years.
Indian government documents reviewed by Reuters show New Delhi has imposed restrictions over the past 16 months on Indian passports stamped with T visas. Those visas give legal status in the U.S. to trafficking victims if they agree to testify against those who smuggled them.
Between July 2014 and March 2015, at least 20 passports of Indians stamped with T visas were confiscated by authorities at Indian airports, preventing trafficking victims who returned home to collect their families from flying back to the United States, according to Jean Stockdale, a church worker who helps trafficking victims apply for the visas from her base in New Jersey.
That has now stopped. But since March, Indians who have received U.S. T visas have faced new restrictions. T-visa holders face long delays in renewing passports at Indian consulates. They also must provide confidential information to the Indian government that they had previously submitted to the U.S. authorities, including details about who had trafficked them, according to the documents, legal advocates and interviews with T visa holders.
Legal advocates for people such as Ahir say India's failure to recognize all T visas and attempt to seek confidential information on alleged traffickers raise the risk that victims or their families will face reprisals.
U.S. officials say they are also concerned over what they see as India's reluctance to recognize a U.S. congressionally mandated visa for people the U.S. government considers victims of human trafficking
"We are deeply concerned by reports that some Indian nationals holding U.S. T visas have experienced travel restrictions," the U.S. State Department said in a response to questions from Reuters. "The current status of the policy is unclear, and we continue to ask the government of India at high levels in Washington and in New Delhi to fully repeal the policy."
The Indian embassy in Washington said in a statement in response to questions from Reuters that "many individuals seek to misuse the trafficking visa route to emigrate to the U.S" and that "appropriate measures are taken in such cases." India, however, is mindful of hardships "faced by genuinely affected persons" who receive T visas and provides them with consular services, it added.
It declined to respond to a question from Reuters over whether the Khobragade case influenced the policy.
"It is not a blanket ban," said a source at India's Ministry of External Affairs in New Delhi. "We are not throwing the baby out with the bath water. The issue is: how can the U.S. be the sole arbiter of what constitutes human trafficking?"
The topic is expected to be raised at a hearing on Capitol Hill on Wednesday led by U.S. Representative Chris Smith, a Republican who authored a 2000 law that led to creation of the T visas, said a congressional aide.
"INVASIVE" ACTION
Human rights advocates say the restrictions undermine U.S. government efforts to help Indians rescued from forced labor in the United States, including hundreds recruited to work in U.S. Gulf Coast shipyards after Katrina hit in 2005.
"Those applications to the U.S. government are supposed to be confidential," said Martina Vandenberg, president and founder of the Human Trafficking Pro Bono Legal Center.
The visa problems have divided the U.S. State Department over how far to publicly reprimand India at a time of improving relations with New Delhi.
In April, experts at the State Department's office that monitors global human trafficking recommended downgrading India to the second-lowest tier in its annual human trafficking scorecard, one notch away from the world's worst offenders in forced labor - from North Korea to Syria.
They cited the T visa treatment, among other factors, but were overruled by senior American diplomats who kept India's ranking unchanged, Reuters reported on Aug. 3. The State Department's "Trafficking in Persons" report, published on July 27, removed the experts' references to India's "unprecedented" and "invasive" action, according to sources with knowledge of the matter.
The State Department said it does not discuss details of internal deliberations.
Once his H2-B guest-worker visa expired, Ahir was falsely assured by Eagle Staffing that it was okay to keep working even though the promised green card hadn't arrived, he said.
After leaving Eagle in 2008, Ahir spent years living in the United States without legal status, moving job to job, often earning barely enough money to survive.
In 2012, Eagle's business license was revoked by Louisiana authorities, state records show. It was unclear why that happened but it followed complaints by workers and a letter in March 2008 by then-U.S. Representative George Miller urging the labor department to investigate Eagle Staffing and eight other recruitment agencies.
In July, one of the biggest employers of Indian workers on the Gulf Coast, Alabama-based oil rig repair company Signal International LLC, agreed to pay $20 million to settle claims that it misled and exploited Indian guest workers brought to the United States. As many as 500 people came from India to work for Signal, court papers show. More than 225 filed suit against the company.
In September, Signal issued an apology to the workers.
STRIP SEARCH
The problems with T visas follow the December 2013 arrest of Khobragade for visa fraud and underpaying a domestic worker who was later issued a U.S. T visa. Her arrest and subsequent strip search provoked an outcry in India over her treatment by U.S. authorities.
After Khobragade was granted immunity, the United States had her essentially expelled in a flurry of diplomatic maneuvers in January last year.
A month after she returned to India, New Delhi considered whether to treat holders of U.S. T visas as violators of India's Passports Act of 1967, according to India's Ministry of External Affairs. The Act allows Indian authorities to confiscate passports if necessary in the interest of "the sovereignty and integrity of India," among other reasons.
In July last year, India began confiscating passports stamped with U.S. T visas.
"This is 100 percent in response to what happened with Khobragade," said a congressional source who has discussed the matter with senior diplomats at the Indian embassy in Washington.
A March 3 high court ruling in India found India's confiscation of passports with T visas unconstitutional. A March 16 memo from the Ministry of External Affairs seen by Reuters told "all missions and posts" to relax some aspects of the policy but not repeal it.
Since the ruling, people who had their passports seized have had them returned and new confiscations appear to have stopped, said Stockdale and the congressional source.
But since then, about 20 T visa holders have been unable to renew passports, said Stockdale, citing cases with which she has been directly involved.
At the Indian consulate in Houston, Naijo Kaiprampatt was told that to renew his passport, he needed to show proof he was trafficked by Signal. But he was recruited by another company, he says.
Kaiprampatt, 39, provided the name of that company and other information to the U.S. government, which gave him a T visa. He said the Indian consulate in Houston told him it has no authority to renew the passport of any Indian with a T visa unless that person was trafficked by Signal, and that he will have to bring proof that the company that brought him to the U.S. is related to Signal.
"They want the same documents that I gave to the U.S. government, but those are supposed to be confidential," he said.
Ahir's plight is similar. The Signal settlement didn't cover him because he worked at Eagle, and by the time he received a T visa in July 2013, his wife in India had divorced him, Ahir said.
He wanted to renew his Indian passport so he could return to see his sick father, but for more than a year the Houston consulate has told him it cannot do so unless he hands over the documents he submitted to the U.S. for his T visa.
"This is information that was supposed to be for the U.S. government only," he said.