India Signs Short-Term Lease at Chabahar Port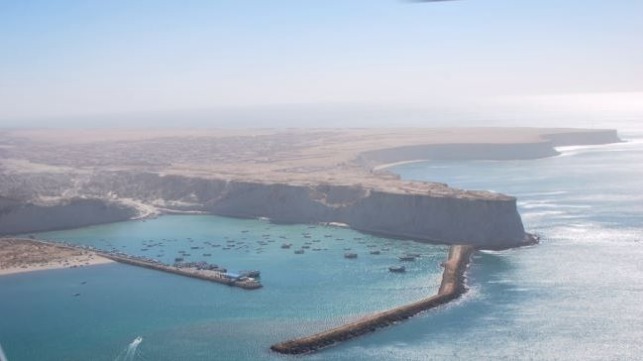 India and Iran have reached an interim agreement for the operation of phase one of Chabahar Port, a small but strategically important terminal near the Iranian border with Pakistan.
At just 18 months, India's initial lease at Chabahar is unusually short, and it is reportedly intended as an interim measure until India procures its own equipment to run the port. For now, India Ports Global Limited (IPGL) will be working with borrowed Iranian equipment.
The $85 million terminal will make it easier for Indian shipping to bypass Pakistan. New Delhi has always had an uneasy relationship with Islamabad, and by cutting out Pakistani road networks for shipments into eastern Iran and Afghanistan, it will be reducing its economic dependence on its regional rival. It will also offset growing Chinese influence: China is investing heavily in transportation infrastructure in Pakistan, including the new Chinese-operated port at Gwadar, just 50 nm across the border from Chabahar.
India is also investing in the shoreside infrastructure to connect Chabahar with the rest of the world. It is contemplating a $1.6 billion railway line from the new port to Zahedan, a small town near the Afghan border, and a slew of mineral, gas, coal and petrochemical projects - but all of these initiatives may be speculative if U.S. President Donald Trump reimposes tough sanctions on Iran.
The United States and its allies imposed an escalating series of sanctions on Iran over its nuclear weapons program beginning in 2012. These were effective enough that Iran agreed to unwind much of its progress towards a nuclear arsenal, and in exchange, the U.S. Treasury partially lifted economic and financial sanctions. This reprieve covered secondary sanctions - the penalties for non-U.S. entities who do business with Iran. The agreement took effect in January 2016, and it has allowed Iran to solicit foreign investment once more.
However, President Trump asserted last year that Iran has violated the "spirit" of the nuclear accord, and he has threatened repeatedly to reimpose sanctions. That possibility casts a chill over potential foreign investment decisions in Iran, especially dollar-denominated investments. Much of India's current trade with Iran is conducted in rupees and euros in order to avoid exposure to issues with American regulators.
For Chabahar, this may be a matter of particular concern. "If Trump imposes more sanctions on Iran, we may have to wind up most of our plans," one official involved in the project told Reuters last year. He noted that equipment suppliers are already concerned that they might face challenges getting paid if sanctions were reimposed.