Incat Plans to Deliver World's First Large, Lightweight Electric Ferry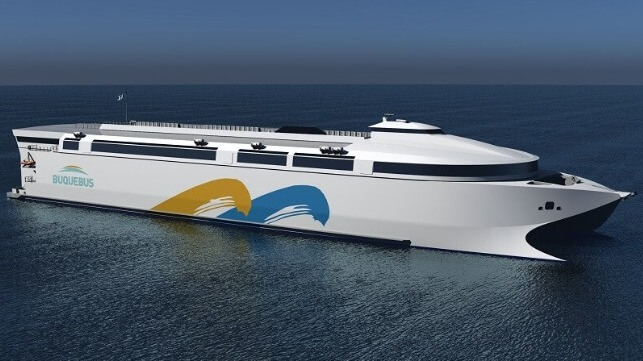 The Australian high-speed catamaran ferry builder Incat Tasmania has revealed it is in discussion with South American operator Buquebus for delivery of the world's largest zero-emissions, lightweight ro-pax ferry.
The 130-meter long ferry is currently under construction at Incat's shipyard. It was originally intended to run on LNG. However, following a recent consultation with Buquebus, Incat has been asked to replace the LNG powerplant with a battery-electric solution.
The vessel will have capacity to carry 2,100 passengers and 226 vehicles, with delivery set for 2025. Buquebus, a long-time customer of Incat, will operate the vessel between Argentina and Uruguay.
"The customer wants this to happen. Incat also wants it to happen, and whilst there are matters to be finalized, I am extremely confident that Incat can deliver this groundbreaking ship. In my experience unless we see something come from left field, this is a done deal," said Incat Group Chairman and Founder Robert Clifford. "Obviously, there needs to be sufficient energy supply in the ports that the ship would visit but we understand this is progressing positively. The batteries and electric motors are being worked through with our suppliers, to ensure they can deliver the technology required in the time frame we need them."
With the maritime industry eyeing for a zero-carbon emissions future, electric ships are seen as part of the enablers for the industry's decarbonization. Incat believes that the market for lightweight electric ferries is opening up, and it is scaling up its workforce and production facilities in readiness.
Construction projects for electric ferries have been on the rise across major shipyards in the world. Last year, MS Medstraum, billed as the world's first fully electric and zero-emission fast ferry, was delivered to its homeport in Stavanger, Norway. The ferry is approximately 98 feet long and has a capacity for up to 147 passengers.