[Updated] Inaccurate Weather Forecasts Before El Faro Tragedy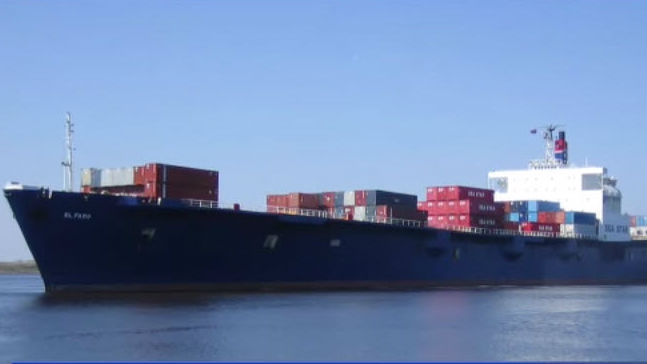 On Tuesday, the Marine Board of Investigation continued its hearing into the loss of the El Faro with testimony from Mr. James Franklin, branch chief of the Hurricane Specialist Unit at the National Hurricane Center, and from Captain Jack Hearn, a former master of the Ponce-class vessels on the Puerto Rico run.
Mr. Franklin testified about weather modeling and the forecast for Hurricane Joaquin. In general, Franklin described the forecast for the hurricane as unusually inaccurate. "The initial forecast called for a relatively weak system to head off to the west and northwest, and instead it moved west-south-west and strengthened," he said. "The three day forecast [for October 1] . . . had a track error of 536 miles. That's an extraordinarily large error, that's really about a one in 100 type of track error. The 48-hour track forecast . . . had an error of 180 miles," worse than about 90 percent of similar forecasts, he said. "By the one-day [forecast] it was a 62-mile error, and that's more in line with the average."
Further, the three-day intensity forecast was 80 knots too low; the 48-hour forecast was 60 knots too low; and the one-day was 30 knots too low, he said.
In reviewing the testimony, Lee Chesneau, a senior marine meteorologist, weather instructor and consultant, suggests that despite the three-day and two-day forecast inaccuracies, the NOAA weather products available one day out – the morning of the El Faro's departure – were sufficient to warn against sailing on her final course. He notes that on the one-day forecast, the standard "Danger Area to Avoid" for then-Tropical Storm Joaquin overlapped the El Faro's intended route, and that the predicted storm intensity would have made it ill-advised to approach. "A tropical cyclone is not like a mid-latitude storm – its energy is more concentrated within a smaller radius," said Chesneau. "And once you are within a tropical cyclone's 34-knot wind radius, you are in the hands of the storm: the winds are persistent, they are steadily intensifying, and they change directions, along with building, 'confused' sea states."
Chesneau emphasized that it is critical for mariners to reevaluate storm risks with every official weather advisory, available every six hours, and not to rely on previous three-day or two-day forecasts alone.
In addition to the day's testimony on weather, Captain Jack Hearn responded to the Board's questions on staffing, strengths and weaknesses of the vessel class, cargo, stability and operations management.
Like many previous witnesses, Captain Hearn said that the Ponce-class ships maneuvered well and handled well in rough weather, but he also detailed what he described as potential vulnerabilities.
First, he noted the importance of maintenance for the watertight integrity of large cargo hatches and manhole hatches between holds; the seals on these hatches required regular attention, he said. Many years before, he had experienced a failure of hatch seals between holds on another vessel of the class, with flooding penetrating through closed hatches.
Second, he testified that the El Faro and her sister ships were "tender ships" after their conversion to con/ros and deployment on the busy route, with heavier cargo on top and a smaller GM margin. Once competitor Horizon Lines stopped operating to Puerto Rico, "cargo was increasing, both volume and tonnage, we were picking up the available cargo that we could fit on the ship. We were going to full load," he said. He testified that after noting ship behavior that caused him concern, he asked for a minimum GM margin of 0.5 feet, which he thought suitable for normal weather. "I was observing a very slow return, the ship becoming even more tender on arrival when it was when it left," he said. "You could even feel the ship [heel] over from a rudder command alone [in fine weather], let alone rolling with a heavy swell. We felt it important to build in a safety margin to preserve stability [for rough conditions]." In the event of heavy weather, "I wouldn't hesitate to call operations and see if we could go a different route or take some cargo off and go for about a foot [of GM margin]," he said.
Third, for machinery, he described boiler integrity as a potential vulnerability in heavy weather, in addition to vulnerabilities related to steam lines; condensers; fuel contamination from stirred-up sludge in tanks; and the possibility of damage from stern slamming. "If you're slamming your stern . . . that could [damage] machinery. Typically the first thing you try to do is get into a head sea and slow down," he said.
Fourth, "another vulnerability with those systems is the people. You need experienced people who know the system, know the plant, and know how to handle something that might fall out of the routine . . . it could be a vulnerability in an emergency if they have to handle it."
Captain Hearn alleged that the average experience level of officers on the Puerto Rico run had been declining. When he first began, many had spent years on the same route and on the same vessels, he said, but "by the time I was leaving, that was changing, both deck and engine." He testified that this would cause him concern on a trip in heavy weather. Maneuvers in rough conditions could require all engineering crew on hand at once, he said, and an experienced engine department would recognize trouble sooner.
Hearn testified that towards 2012-13, it became more difficult to obtain changes and repairs. In a trip on sister ship El Morro, "we found some holes in the cargo spaces on the second deck and . . . the company, there was a reluctance to report this to the Coast Guard," he said. "[The company] flew a port engineer out to the ship in San Juan and the port engineer was given the responsibility to report to the Coast Guard. We showed him the damaged area . . . [but] the port engineer did not report it to the Coast Guard," Captain Hearn contended. He told the Board that after he discussed this outcome with the designated person ashore, the company notified the Coast Guard and ABS. Hearn said that his relations with port engineers were strained afterwards.
Captain Hearn's tenure on the Ponce-class ships ended in 2013; he said that a company official offered him either resignation or termination following an unspecified incident involving crewmembers. He resigned, then retracted his resignation, and was ultimately dismissed. He did not give details of the incident in question, but William Bennett, the representative for Captain Michael Davidson's widow, read from a letter stating that authorities had arrested El Morro crew members for smuggling over 40 kilos of drugs aboard. Bennett offered to read the entirety of the letter into the record but Captain Hearn declined.
[Updated May 18 to include Mr. Chesneau's commentary on weather.]
The opinions expressed herein are the author's and not necessarily those of The Maritime Executive.