IMO: No Turning Back on Fuel Sulfur Cap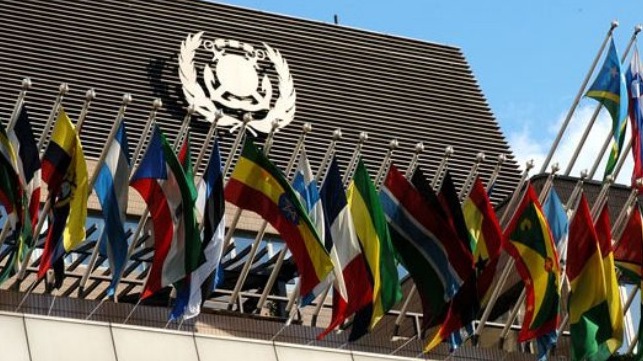 In his opening speech for this week's meeting of the IMO Subcommittee on Pollution Prevention and Response (PPR), Secretary General Kitack Lim said that there would be "no turning back" on the implementation of IMO's worldwide cap on fuel sulfur content. High-sulfur fuels form hazardous levels of sulfur oxides (SOx) after combustion, and the new regulation is intended to reduce shipping's impact on public health and environmental quality.
"The most important item on your agenda this week is the consistent implementation of the [0.5 percent] global limit of the sulphur content of ships' fuel oil, which will come into effect from 1 January 2020," said Kitack Lim. "There is no turning back! The lower global sulphur limit will have a significant beneficial impact on the environment and on human health, particularly that of people living in port cities and coastal communities."
"Consistent implementation to all ships will ensure a level playing field is maintained, with the result that the expected improvement of the environment and human health will be achieved," he continued. "The large number of submissions on the matter indicates its importance and significance in the minds of all parties concerned, a point reiterated by the recent combined press release from industry and environmental observer organizations."
Among other submissions, PPR will examine a proposal from shipowner associations and environmental groups that calls for a worldwide ban on the carriage of noncompliant fuels (except for vessels with scrubber technology, which captures SOx from high-sulfur fuel combustion). If IMO allows all ships to carry cheap, high sulfur fuels, the coalition argues, it could enable unscrupulous operators to avoid the law and create an uneven playing field for reputable companies that invest in compliance. The coalition behind the proposal is an unusual alliance of leading industry voices and environmental advocates, including BIMCO, Clean Shipping Coalition, Cruise Lines International Association, Friends of the Earth U.S., International Chamber of Shipping, International Parcel Tankers' Association, INTERTANKO, Pacific Environment, World Shipping Council, and the WWF Global Arctic Programme.
The environmental impact of the ban may be mixed. By reducing SOx emissions, it will certainly have positive implications for near-term public health. In a new paper published Tuesday in Nature Communications, researchers from the Finnish Meteorological Institute and the University of Delaware found that the IMO sulfur cap will bring the number of premature deaths attributable to marine fuel air pollution down to 250,000 per year worldwide, reducing ship-related premature mortality by about one third.
However, SOx also has a climate-cooling effect - enough of a cooling effect that some researchers suggest that large-scale, carefully engineered SOx emissions could be used to counteract climate change (with negative side effects). This means that reducing SOx emissions from shipping will increase the rate of global warming, and the paper released Tuesday suggests that the IMO sulfur limit could increase anthropogenic impact on the world's climate by fully three percent. "We're talking some big numbers," said study co-author James Corbett of the University of Delaware's School of Marine Science and Policy, speaking to Nature.