Hyundai Merchant Marine Looks to Arctic Route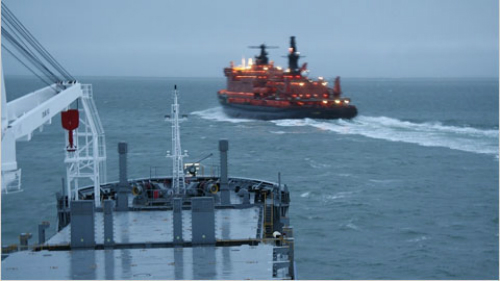 Hyundai Merchant Marine, South Korea's largest container carrier, is planning to sail the Northern Sea Route by 2020.
The Korea Times cites industry sources saying the company is planning to use 2,500 to 3,500 TEU ships, possibly with ice-breaking support provided by Russia, on the Arctic route. The move could cut shipping times from South Korea to Europe to 30 days, compared to the 40-day voyage through the Indian Ocean and Suez Canal.
According to the Korea Times, Korean President Moon Jae-in discussed enhanced Arctic cooperation with Russia's Vladimir Putin during the recent G20 summit in Germany.
LNG Carrier Transit to South Korea
The first container ship transit of the Northern Sea Route was made in 2013 by COSCO's Yong Sheng. Meanwhile, the route is continuing to gain traction in other shipping sectors. The LNG tanker Christophe de Margerie has just completed its first voyage of the Northern Sea Route in a record time of 6.5 days. In total it took 22 days for the LNG tanker to sail from Norway to South Korea.
The Christophe de Margerie was built by the order of Sovcomflot to provide year-round transportation for LNG in the Kara Sea and Gulf of Ob for the Yamal LNG project.
Future Growth
The Russian Ministry of Transport currently forecasts that cargo turnover along the Northern Sea Route for all ship types will grow tenfold to 65 million tons per year by 2020.
However, Arild Moe, a Senior Research Fellow with the independent Norwegian research foundation Fridtjof Nansen Institute, says transits have so far been dominated by bulk vessels, tankers, reefer ships, and general cargo vessels, with many transits aimed at ballast and repositioning. Container shipping operators are less inclined to brave the ice, he says:
"Even if transit on the Northern Sea Route remains attractive for shipping operators moving some cargoes to some destinations, it is also clear that the route has limitations: a short sailing season due to heavy ice for at least half the year; draft and thus ship size limitations, if vessels have to pass through certain straits; higher construction costs of ice class ships; unpredictable ice situation, even if there sometimes is no ice along the NSR in the summer season, ice may occur and delay transits; uncertainty of future escort fees. Many of these limitations are particularly challenging for container traffic, less so for bulk."
In July, Sovcomflot called on the Russian government to continue its drive to improve navigational safety measures on the Northern Sea Route and asked for a ban on substandard ships and crews sailing in the environmentally sensitive region.
The Northern Sea Route from the Kara Gate to the Providence Bay is about 5,600 kilometers (3,480 miles) long.