Hyundai Heavy Industries Exceeds 2018 Order Target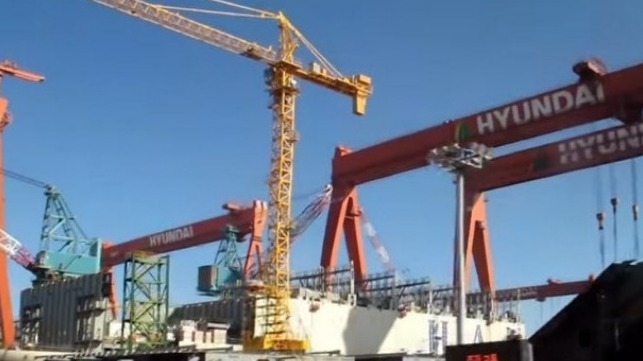 Hyundai Heavy Industries has over-fulfilled its annual target for shipbuilding orders ahead of the 2018 year-end, recently concluding a contract to build two frigates for the South Korean Navy.
The South Korean yard announced the nation's arms procurement agency Defense Acquisition Program Administration (DAPA) has placed an order valued at around $560 million for two 2,800-ton class frigates. Capable of sailing at a maximum speed of 30 knots with an overall length of 122 meters and an overall beam of 14 meters, the two 2,800-ton vessels will be the 7th and 8th units of Phase II of the Navy's Future Frigate Program. The yard is currently building the 3rd and 4th frigates and plans to commence construction of the two additional ships in the second half of 2020 for delivery to the Navy by 2023.
Hyundai Heavy Industries is the only shipyard to participate in all three phases of the South Korean Navy's Future Frigate Program, delivering three 2,300-ton class frigates in Phase I of the program and now working on the basic design process for Phase III.
Earlier this month, the yard received an order to build two 174,000 cbm LNG carriers for an unidentified Asian shipping company.
The yard's year-to-date number of ships on order is 153 valued at $13.3 billion in aggregate, which exceeds the group's annul target for the shipbuilding sector of $13.2 billion. 2018 orders include 40 gas tankers (25 LNG carriers and 15 LPG carriers), 56 oil tankers, 50 container ships, four bulk carriers, two frigates and a car ferry.
Hyundai Heavy Industries is currently the world's largest shipyard by sales. The wo other major South Korean shipbuilders, Samsung Heavy Industries and Daewoo Shipbuilding and Marine Engineering (DSME), continue to work towards achieving their yearly targets. DSME recently won an order to build an LNG carrier for Maran Gas Maritime. The yard said it had achieved 85 percent of its $7.3 billion annual target with the order.
Samsung Heavy Industries also recently one an order for an LNG carrier, giving it $5.5 billion in orders this year, about two thirds of its $8.2 billion target.